Singer Calls Out Trump Fan Account For Using Her Photos to 'Catfish' Followers: 'You Creep'
Free advice: If you're going to operate a bot account to make it look like President-elect Donald Trump has support from a whole bunch of unexpected places, don't post photos of a singer with 2 million Twitter followers and try to pretend they're just pictures of you.
An anonymous Twitter user learned that the hard way today when singer Madison Beer came at them for trying to pass off her photos as their own.
She wrote this…
.@MagicRoyalty yeah from like 4 years ago u creep

— Madison Beer (@MadisonBeer) December 26, 2016
…presumably in response to this, though it is hard to tell because there is no thread, perhaps because the Trump bot account blocked the famous singer.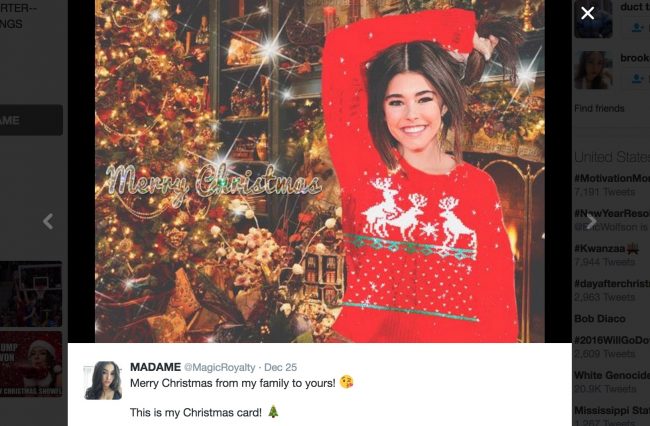 For good measure, the 17-year-old added this:
.@MagicRoyalty dude if you're gonna catfish people at least use photos from the same time period. you're not very good at this.

— Madison Beer (@MadisonBeer) December 26, 2016
Trump bots are not a new phenomenon. The Trumpian dating app is full of them, after all. As is the case here, those bots tended to feature images that belong to well-known Internet celebrities, making them easy to bust with a reverse-image look-up.
This particular anon account, @MagicRoyalty, has used quite a few photos of Beer, interspersing them among seemingly doctored images of outlandish cable news chyrons, drawings of Trump guzzling "liberal tears," and sports updates. Oddly, there is a supercut of James Corden's "Carpool Karaoke" in there, too.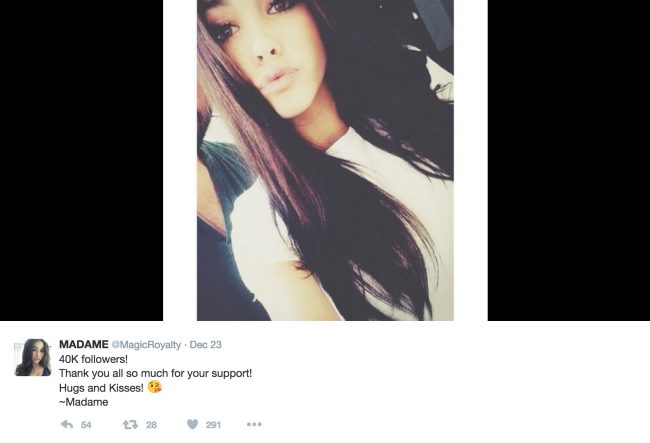 As noted, none of Beer's tweets seem to thread back to an original @MagicRoyalty tweet, which suggests that after being busted by the celebrity with 2 million followers, "MADAME" simply blocked her.
We have reached out to Beer for comment.
[image: screengrab]
Have a tip we should know? tips@mediaite.com