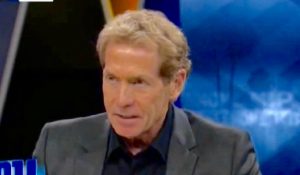 The NFL ratings drop has become impossible to ignore for observers of the league. A new Yahoo!/YouGov poll out found that 29% of respondents are watching fewer NFL games this season. And of that group, 40% attribute their diminished viewing time to the National Anthem protests started by Colin Kaepernick.
Skip Bayless noted the poll results on Thursday morning, and seemed to suggest that the continuation of the protests could have a lasting impact on NFL ratings.
"(W)e are starting to have some proof, some evidence, that it is starting to have an impact on lost viewership," Bayless said.
Bayless, who has been a consistent supporter of the Anthem protests to date, followed up by asking his Undisputed co-host Shannon Sharpe whether the protests are beginning to lose their effectiveness.
As strong as that message has been, and as effective as it's been to use that platform, and this Nation, to deliver that message to open eyes and ears…I've told you before from the white guy's view, it worked. Like crazy. He wound up on the cover of Time Magazine. Message delivered. Solution delivered, I don't know? but at least the message got delivered the best it could. Now, is it to the point of diminishing returns? Are you starting — I'm just asking you and the protesters — are you starting to threaten the golden goose that is the NFL? The cash cow that is NFL? Are you to the point where you should pull back a little bit just to make sure that you protect your stage? Because you made your point. To me, at what point do you start to unmake your point.
Watch above, via Fox Sports 1.
[image via screengrab]
–
Follow Joe DePaolo (@joe_depaolo) on Twitter
Have a tip we should know? tips@mediaite.com
Joe DePaolo - Senior Editor