Snowden May Wish He Went To Jail In America If He Accepts Putin's Offer Of Russian Exile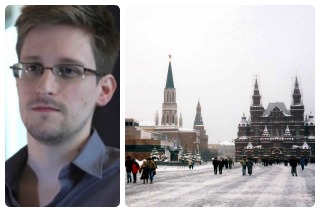 Six months after the Soviet Union ceased to exist, the American defector Victor Norris Hamilton surfaced in a Russian mental hospital. He had been missing for more than 20 years. The 75-year-old former cryptologist for the National Security Agency had defected to the Soviet Union in 1963. His family was shocked to learn of his whereabouts, noting that they had last had contact with him in 1973. They were equally surprised to learn that Hamilton was committed to hospital in a Moscow suburb in 1971 where he disappeared for 20 years.
Hamilton's unfortunate ordeal is once again relevant. It provides context for the news that NSA leaker Edward Snowden has been effectively offered sanctuary by Russian President Vladimir Putin on the condition that he renounce his especially unhelpful habit of revealing American intelligence gathering secrets to the press (and instead reveal them only to the Federal Security Service). Putin said that, provided he provide Washington with some perfunctory assurances that he will no longer regularly embarrass the American intelligence community, Snowden can leave the international limbo of Sheremetyevo airport and work peacefully in the Russian Federation. If Snowden takes Putin up on his generous offer, history suggests he will wish he had not.
Foreign Policy magazine has a compiled a list of cases of American defectors who provided the Soviets with troves of secrets about American intelligence gathering techniques and methods. Their stories are less than heartening for would-be defectors.
FP details the stories of agents like William Martin and Bernon Mitchell; NSA cryptologists who defected to Moscow in the 1960s where they married and worked for a time, but had trouble adjusting. "According to the NSA's in-house report on the incident, both men asked to leave Russia within a year of their defection, 'but no country would accept them,'" writes FP's J. Dana Stuster. "Mitchell died in Moscow, but in time Martin made it as far as Tijuana, where he died in 1987."
The story of CIA defector Edward Lee Howard, as told by the KGB agent who knew him before his death, described a similar inability to adjust. In spite of the Soviet Union's efforts to provide Howard with a comfortable life in exile, the KGB agent told the New York Times after his death that "life was not sweet for him here."
Glenn Michael Souther, a U.S. Navy photographer, disappeared from the United States in 1986 and resurfaced in the Soviet Union in 1988. It was soon discovered that Souther was immediately embraced by Soviet military authorities and made a counter-intelligence agent. Initially suspected of being a CIA double agent sent to Russia to spy for the Americans, he was later determined to be a genuine defector and earned the rank of Major in the KGB. Souther settled down near Moscow and married a Russian woman who taught English at a Moscow University. They had a child together. The outwardly comfortable appearance of the life that Souther built for himself in the Soviet Union made the news that the 32-year-old suffocated himself in 1989 with his own car's exhaust even more difficult to accept.
"His nervous system could not stand the pressure" of life in the U.S.S.R.,"KGB chief Vladimir Kryuchkov told People Magazine. "The Soviets "probably took away the only thing that made him really special—his crazy free spirit," a college friend of Souther's recalled.
Should Snowden take Putin up on his offer of Russian protection – if it is an offer and not a suggestion – Snowden's future may resemble those of his predecessors. We know that the NSA leaker fancies himself a historian of sorts, versed in intelligence gathering practices and the game of international espionage that he was so enamored with. It is likely that Snowden knows now, surrounded by the smiling faces of English-speaking Russian authorities, that he may never leave the country he was told he was only passing through.
Update: According to reports, Snowden has "asked" for political asylum in Russia.
> >Follow Noah Rothman (@NoahCRothman) on Twitter
Have a tip we should know? tips@mediaite.com