So Much For The 90 Percent: Poll Shows Gun Control Legislation's Failure Greeted With Relief By Many
So Much For The 90% - Poll Shows Gun Control Legislation's Failure Greeted With Relief By Many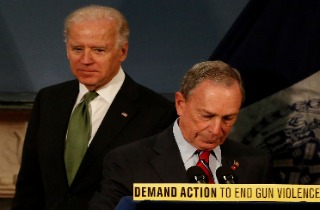 "How can something have 90% support and not happen?" asked President Barack Obama on the day the Senate failed to pass even a modest reform of the nation's gun laws. The answer to his rhetorical question is simple: it can't. A Washington Post/Pew Research Center poll showed on Wednesday that the public is far less enraged about the Senate's failure to pass new gun laws than, say, Joe Scarborough. The poll found that only a plurality, 47 percent, were disappointed that the Senate did not pass any new laws, including an expansion of background checks for gun purchasers. 39 percent, however, expressed either relief or happiness over the failure to pass new gun laws. Furthermore, a plurality of self-identified independents expressed satisfaction with the fact that no new gun laws were passed.

The WaPo/Pew poll, taken between April 18 – 24 of 1,002 adults with a margin of error of +/- 3.7 percent, showed that only a plurality are disappointed by the failure to pass new gun laws. This figure is boyed by the 67 percent of Democrats who are frustrated by the Senate's inaction. 51 percent of Republicans were "relieved" or "very happy" by the failure to pass new gun laws. 48 percent of independents said the same, while just 41 percent said they were either "disappointed" or "angry" over the lack of new gun control.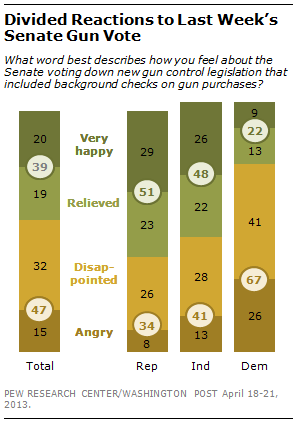 RELATED: 'Pretty Shameful Day For Washington': Obama Rips Senate Failure, Calls Out Gun Lobby For 'Willful Lies'
Republicans and Democrats were paying approximately equal attention to the gun control debate over the course of the last four months. Of adults who were paying very close attention to the issue, 33 percent said they were "very happy" with the Senate's decision not to pass new laws. Only 22 percent of people paying close attention said they were "angry" with the results of the Senate's vote on April 17.
The WaPo/Pew survey shows that opinion on the issue of guns remains sharply divided. "Even in states where both senators voted in favor of the legislation, only about half of the constituents are angry or disappointed that the proposal failed. Similarly, in states where both members voted no only about half are very happy or relieved the bill was blocked," reads the Pew release on the new poll.
Prior to the Senate's vote, a number of surveys – including a recent Washington Post/ABC News poll – showed that 90+ percent of adults supported expanded background checks. Subsequent polls have also shown, however, that voters do not view gun control legislation as a priority for Congress. While voters support expanded background checks, they did not see passing new laws as an effective use of lawmakers' time.
This does not bode well for groups like New York City Mayor Michael Bloomberg's Mayors Against Illegal Guns who have pledged to spend a significant amount of money galvanizing Democratic primary voters to oppose incumbent legislators who opposed the new gun control bill. Surveys show that Democratic primary voters may be predisposed to punish Democratic officeholders who did not support new gun laws. The general electorate, however, is far less amenable to support politicians who champion stricter gun control measures.
> >Follow Noah Rothman (@NoahCRothman) on Twitter
Have a tip we should know? tips@mediaite.com