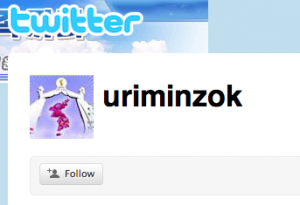 Just in case you needed further affirmation that social networking sites are taking over the world (as opposed to Apple or whatever your conspiracy theory of choice might be), North Korea now has a Twitter account. Yes, the whole country.
More precisely, the media outlet Uriminzokkiri, which is one of the few outlets in North Korea to produce English-language content intended for foreign audiences. Although it's difficult to be certain of anything in North Korea, Uriminzokkiri is supposedly run by the government. So by the Transitive Property of Social Networking and Government Propaganda Machines, North Korea has officially joined the Twitterverse.
From the AFP:
The secretive regime has begun micro-blogging under the name @uriminzok, with a number of posts pointing its few dozen followers to anti-Seoul and anti-US statements on the country's official website (http://www.uriminzokkiri.com)
Since the tweets are in Korean and none of us here at Mediaite happens to be fluent in Korean, we refer you to PCWorld, which has provide rough translations and general gists of the first few posts. As a note, "Uriminzok" apparently means "Our Nation."
The first message was posted to the account on Aug. 12 and declared (in Korean) "The Web site 'Our Nation' is on Twitter."

It was followed by three messages pointing to important documents: a 1997 essay written by defacto leader Kim Jong Il on reunification, the North-South Joint Declaration of June 15, 2000, and the declaration issued after the North-South summit of Oct. 4, 2007. Subsequent updates have pointed to recent news articles.
So far Uriminzokkiri is only 5 days and 9 Tweets into its foray with 21st century technology. That said, it's already amassed 2,593 followers at our last count. Not too shabby for a secretive, propaganda organization.
Have a tip we should know? tips@mediaite.com