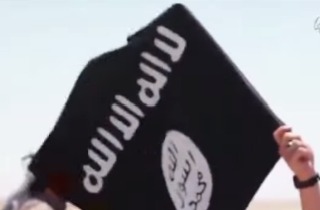 A new report reveals one way some Middle East television shows are taking on ISIS: with comedy. That's right, there's some ISIS satire being shown on TV in the Middle East.
For example, there's one program on Lebanon TV called the Ktir Salbe Show that's had some fun at ISIS' expense. One skit in particular mocks ISIS for harboring a rather literal take on the morals in the Qu'ran, and so he tells the driver he can't listen to the radio or have the AC on because of his beliefs.
The driver gets back at him by asking, "Were there taxi cabs in the earliest days?" When the jihadi says no, the driver kicks him out of the cab.
One of the producers working on that show explains, "These people are not a true representation of Islam and so by mocking them, it is a way to show that we are against them… Of course it's a sensitive issue, but this is one way to reject extremism and make it so the people are not afraid."
There's another show, an animated program airing in Iraq, making fun of ISIS as well, not to mention this pretty dark skit that aired on Palestinian TV:
Palestinian television channel al-Falastiniya aired a skit showing two militants shoot Muslim civilians for their lack of knowledge on the number of times to kneel during prayers, all the while reminiscing over the beautiful women and best party neighborhoods they'd visited in Beirut.
[h/t CBS News]
[image via screengrab]
— —
Follow Josh Feldman on Twitter: @feldmaniac
Have a tip we should know? tips@mediaite.com
Josh Feldman - Senior Editor