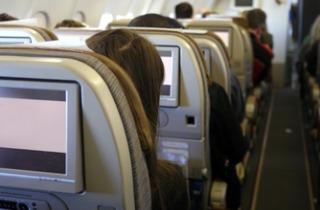 Sigh.
Last Tuesday, a United Airlines flight diverted after two passengers fought over legroom. That triggered a huge conversation on airplane etiquette, allowing others to have legroom on planes, and something called the Knee Defender.
It happened a second time on Thursday. And guess what? IT HAPPENED AGAIN.
That's right, yesterday, another fight broke out in the Great Airplane Seat Reclining War of 2014. A Florida woman was on the Delta flight (going from LaGuardia to West Palm Beach) when the person in front of her reclined her seat and hit her head.
There was no real fighting, the woman was just being unruly and angry, and demanded for the plane to land so she could get off. The plane diverted to Jacksonville and she was "released without incident."
There were, however, two things that really stood out in reports about the incident. See if you can spot them here:
When the staff tried to calm down Fine, she reportedly told one of the flight attendants to "eat sh-t and die," according to the report. Fine told police that two of her dogs recently died and she is very emotional.

Passengers told ABC affiliate WPBF the passenger who reclined her seat was an older woman who was knitting. She was not identified.
So just to recap: 1) she told a flight attendant to "eat shit," and 2) the lady in front of her who set this whole thing off was an old woman who just wanted to knit.
[image via Shutterstock]
— —
Follow Josh Feldman on Twitter: @feldmaniac
Have a tip we should know? tips@mediaite.com
Josh Feldman - Senior Editor