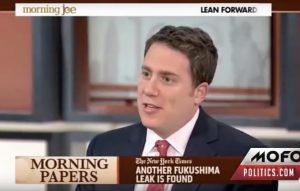 Twitter is an imperfect platform in many ways. One is how, when attempting to search for or even tag someone, it often returns someone with a similar name who you're not following and/or has less followers. This, as well as some users just indiscriminately assuming that someone's username will be @FirstnameLastname, leads to a lot of mistaken tweeting. One of the most famous examples, game developer Jon Jones,  whose username is @jonjones, often gets tweets intended for UFC fighter Jon "Bones" Jones, who goes by @JonnyBones, especially when the latter gets in trouble with the law or regulatory authorities. This week, BuzzFeed's publication of the alleged Donald Trump Russian blackmail dossier has led to the same thing happening to @BenSmithDC,a man who shares his name with BuzzFeed Editor in Chief Ben Smith, who goes by @BuzzFeedBen.
@Ruadhain_K @senatorshoshana Sorry, shldnt have tagged you. My tweet was directed at notoriois Buzzfeed @BenSmithDC

— Shane Moberg (@Shanemober) January 12, 2017
On Friday, the Washington Post published an interview with the other Ben Smith about what he has had to endure on Twitter this week. While the interview has a satirical bent (he's asked the questions as if he's…not him), there's still some interesting information contained within it. He got "a couple thousand notifications" out of nowhere blasting him for BuzzFeed's Ben Smith publishing the dossier, but notes that even before this happened, his profile already said "have never written at BuzzFeed" in it. He also notes that he has worked as a journalist in the past, but he didn't give specifics, and it's not like it would be easy to Google his work.
[Photo: MSNBC screen grab]
Have a tip we should know? [email protected]