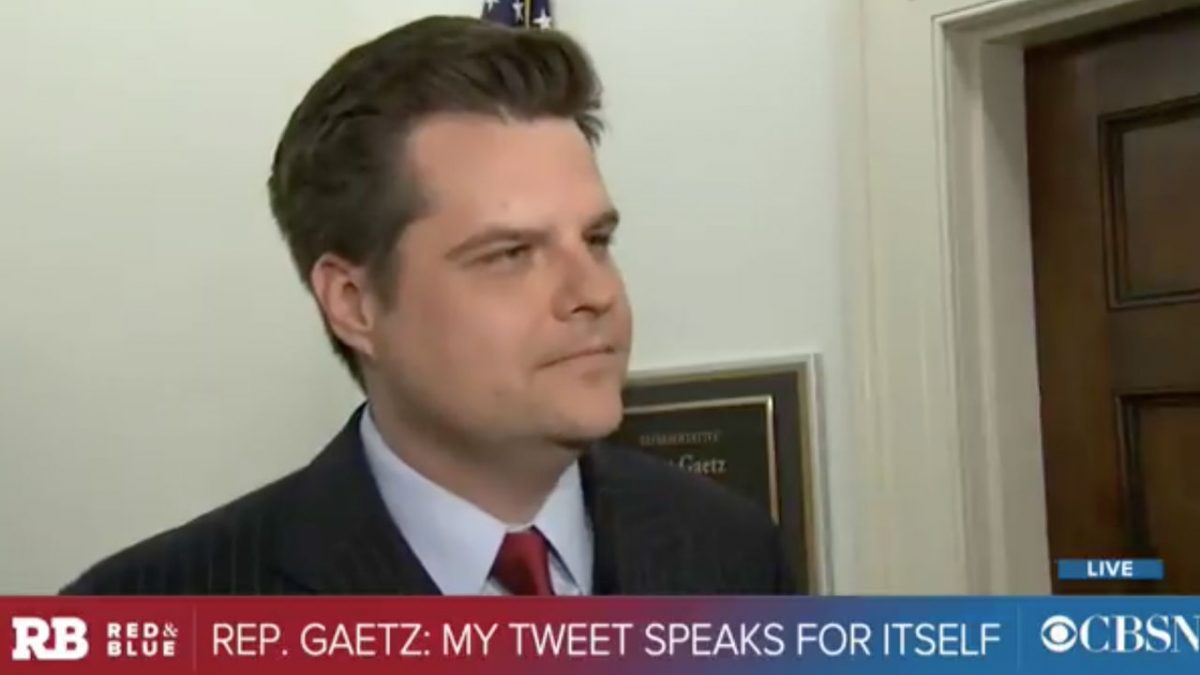 Congressman Matt Gaetz (R-FL) publicly said he regrets his controversial recent remarks towards Michael Cohen, but a new anecdote raises questions.
According to The Atlantic's Edward-Isaac Dovere, President Donald Trump spoke to Gaetz this week while he was still in Vietnam for his denuclearization summit with Kim Jong Un. According to Dovere, Gaetz said "I was happy to do it" when the president brought up the congressman's threats toward his former attorney.
President Trump called @mattgaetz last night from Hanoi to talk the Cohen testimony and the threats (since rescinded) Gaetz made about Cohen.
"I was happy to do it for you. You just keep killing it," Gaetz was heard telling him.
(Gaetz told me he doesn't discuss calls w/POTUS)

— Edward-Isaac Dovere (@IsaacDovere) February 28, 2019
Call happened at just before 9 PM last night DC time, which means that the president was making this phone call as he headed into his meetings with Kim for the day (Hanoi is 12 hours ahead), which of course seem to have fallen apart not long after https://t.co/XmG3ywhEDz

— Edward-Isaac Dovere (@IsaacDovere) February 28, 2019
Gaetz has been under fire over the last few days as people have accused him of unethical conduct and witness intimidation with his deleted comments towards Cohen. The congressman says he's apologized to Cohen and to House Speaker Nancy Pelosi, but his threats have prompted an inquiry from the Florida State Bar Association
Gaetz has insisted that he never talked to anyone at the White House about his Cohen allegations, and Dovere has made some observations about the timing of his remarks and his apologies.
tracking timing: the tweet in which Gaetz said he apologized to Cohen was sent *after* he talked to Trump and said he was happy to do it.
(I offered Gaetz several chances to refute the comment to Trump, but he left it at saying he doesn't discuss conversations with Trump.)

— Edward-Isaac Dovere (@IsaacDovere) February 28, 2019
When reached for comment, Gaetz refused to say anything.
Gaetz's initial response to me this morning, by text, when I told him I wanted to talk to him about his conversation with Trump last night:
"I don't do read outs on my convos w POTUS." https://t.co/wwSxFx0z4x

— Edward-Isaac Dovere (@IsaacDovere) February 28, 2019
UPDATE: Gaetz claims the story is fake. He has demanded The Atlantic retract Dovere's tweet after claiming he was on the phone with Ron DeSantis.
#FakeNews https://t.co/oKwTaMgdTe

— Matt Gaetz (@mattgaetz) February 28, 2019
— —
>> Follow Ken Meyer (@KenMeyer91) on Twitter
Have a tip we should know? tips@mediaite.com