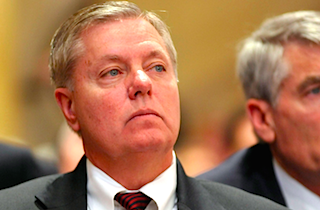 The South Carolina Republican Party has come out with a new fundraising/email collection effort disguised as a 2016 presidential straw poll. And as of earlier this week, it was missing local Senator Lindsey Graham. This is despite the fact that nearly two months ago, Graham said he was "definitely" considering a run.
The poll not only includes likely candidates like Jeb Bush, Scott Walker and Rand Paul, but also some serious long shots like Herman Cain, Sarah Palin and Condoleezza Rice. South Carolina's Governor Nikki Haley and its junior Senator Tim Scott were also listed, making Graham's omission all the more strange.
Reached by Time magazine on Wednesday, South Carolina GOP party chairman Matt Moore explained that the poll was put together late last year. "So it's no reflection upon him," he said. "It was just a poll we put together last year and I expect we'll be adding Sen. Graham pretty soon. In other words, take a look today again."
Lo and behold, Graham's name appeared in the list this afternoon. Of course, it was early last October when the senator first made news by telling The Weekly Standard he "may just jump" into the race.
If Graham, who today suggested that as president he would enlist the U.S. military to forcibly keep Congress in town during important votes, can't get his home state party to take his burgeoning campaign seriously, how will he fare with actual voters?
[Photo via Wikimedia Commons]
— —
>> Follow Matt Wilstein (@TheMattWilstein) on Twitter
Have a tip we should know? tips@mediaite.com