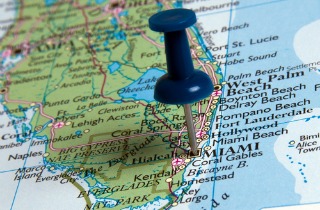 One Florida is enough. Imagine two. Well, that's exactly what some South Miami politicians are pushing for; a proposal to split Florida in half so that South Florida can officially be its own state, separate from those other Floridians all the way up north.
So in addition to North Carolina, South Carolina, North Dakota, and South Dakota, if this ever actually happened we would also have North Florida and South Florida. (Though they might have to get in line behind Puerto Rico.)
Walter Harris, the vice mayor of South Miami (insert forced "Miami vice" joke here), proposed the idea and the city commission passed it with a 3-2 vote.
But now you're probably wondering why South Florida would want to splinter off. Well, Harris explained it's partly to do with concerns over rising sea levels. "We have to be able to deal directly with this environmental concern and we can't really get it done in Tallahassee," he said. "I don't care what people think — it's not a matter of electing the right people."
And South Miami Mayor Philip Stoddard, who's advocated for a two-state solution for years, agrees, and he has some pretty tough words for those bureaucrats over in Tallahassee:
"It's very apparent that the attitude of the northern part of the state is that they would just love to saw the state in half and just let us float off into the Caribbean. They've made that abundantly clear every possible opportunity and I would love to give them the opportunity to do that."
The proposal now makes its way to the governing bodies of each county that would be part of the new state for approval.
[h/t UPROXX]
[image via Shutterstock]
— —
Follow Josh Feldman on Twitter: @feldmaniac
Have a tip we should know? tips@mediaite.com
Josh Feldman - Senior Editor