Speculation Swirls That Bombshell NYT Report Was Planted to Sabotage Rosenstein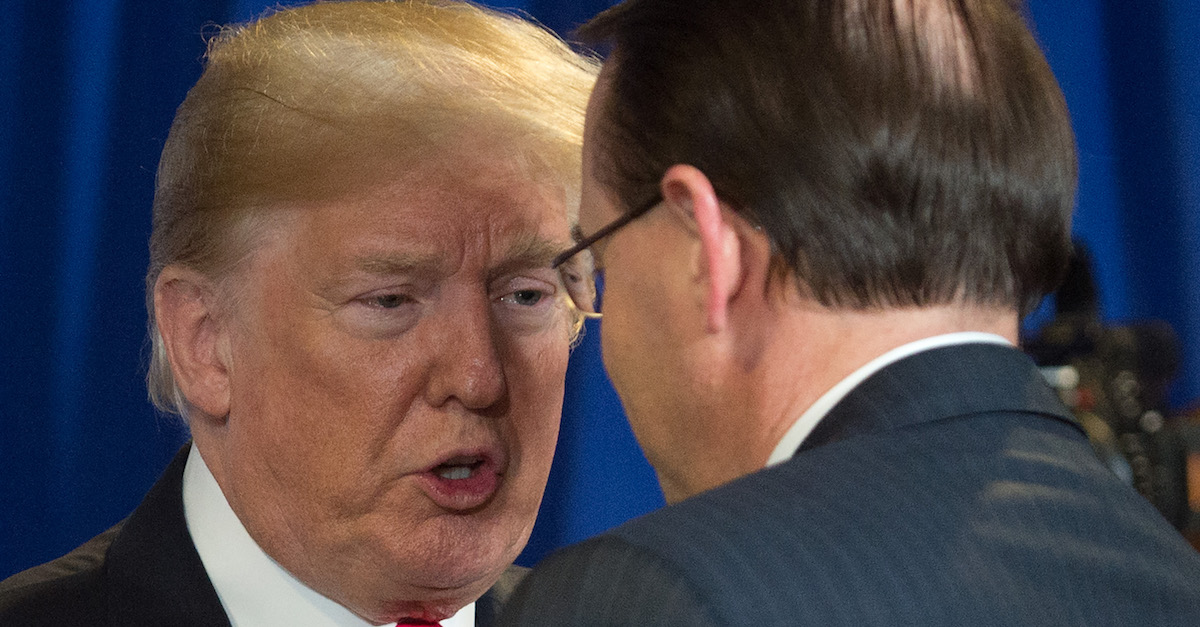 A bombshell story dropped on Friday reporting that Deputy Attorney General Rod Rosenstein suggested he secretly record his conversations with Donald Trump, and discussed trying to having the president removed from office.
The New York Times reported on conversations Rosenstein had with fellow Justice Department and FBI officials in the spring of 2017, amidst the political chaos following Trump's firing of FBI director James Comey.
The Times reported that at the time, Rosenstein suggested he wear a wire to record his conversations with Trump, and also suggested members of Trump's cabinet invoke the 25th Amendment to remove him from office.
Rosenstein adamantly denied the accuracy of the report and said there's no basis for invoking the 25th amendment. A spokesperson suggested to the Times that Rosenstein's comments were sarcastic. On the other hand, Andrew McCabe, the deputy director of the FBI who was fired by Trump, and whose memos are a source for the Times story, issued a statement that did not deny the reporting.
The report sent Twitter into a whirlwind of speculation, with many wondering how and why such information was being leaked now, more than a year after the alleged discussions. After all, such a report will fuel the fears from Trump supporters that the FBI and DOJ are working to undermine the president's administration. Certainly, the report will only amplify calls for his firing.
Many commentators, as such, drew the same conclusion: someone is trying to sabotage Rod Rosenstein.
someone wants Trump to fire Rosenstein https://t.co/BtnPQrV0hO

— Jennifer Epstein (@jeneps) September 21, 2018
Definitely time for a Rosenstein firing countdown clock. (Trump will go nuts over this.)https://t.co/DzOm55JCFg

— David Corn (@DavidCornDC) September 21, 2018
A theory:

Why did Rosenstein story leak now?

Kavanaugh may be sunk. So Trump feels freer to do something audacious. Also keen to take actions that get Dems to talk "impeachment" because that's only way to mobilize Repubs in midterm. Mueller closing in.

Result: Rosenstein fired

— Ryan Goodman (@rgoodlaw) September 21, 2018
My gut says this leak was intended to get Rosenstein fired as well…. https://t.co/jVdG7aVrnL

— Susan Hennessey (@Susan_Hennessey) September 21, 2018
REMINDER: Rosenstein oversees the Mueller investigation and has granted him broad freedom of action. If he is fired or resigns, Trump could replace him with a new deputy AG willing to curtail the investigation. https://t.co/UdA9hRYN1P

— Aaron Rupar (@atrupar) September 21, 2018
this rosenstein story is a) fucking stupid b) clearly planted by someone in the admin, either to give a pretext to fire him or because of brett kavanaugh, idk. it's from may 2017! why now? c) boring. change the channel marge

— libby watson (@libbycwatson) September 21, 2018
no reason to doubt @nytmike's reporting, and maybe the timing is meaningless. but one question this story raises: who might be motivated to torpedo #RodRosenstein right now? https://t.co/WFtcA6FtcL

— chris smith (@chrissmithnymag) September 21, 2018
Rosenstein denying @nytimes story. Hard to imagine NYT being used as a tool of the Trump regime to give them cover for Trump to fire Rosenstein and get to the Mueller probe days after Cohen and Manafort both cooperating. Is this possible?

— Amy Siskind (@Amy_Siskind) September 21, 2018
The New York Times is being played.

Someone in the White House leaked this to them so Trump would have an excuse to fire Rosenstein and replace him with someone who will obstruct the Mueller investigation.

Y'all let yourselves be used. Just like in 2016. https://t.co/QACFAgSdDR

— Matthew Chapman (@fawfulfan) September 21, 2018
Wow. This is a complete hit job on Rosenstein by people who clearly want to egg Donald Trump on to fire him.

I don't believe one word from these anonymous sources who clearly have an axe to grind. https://t.co/Qyu9bW7H1O

— Zac Petkanas (@Zac_Petkanas) September 21, 2018
Sounds like Rod Rosenstein is being set up to get fired. ?

— Jeffrey Evan Gold (@jeffgoldesq) September 21, 2018
Sure enough, calls from Trump allies to fire Rosenstein have already gotten underway:
Rod Rosenstein must be fired today. @realDonaldTrump

— Laura Ingraham (@IngrahamAngle) September 21, 2018
[Photo via Getty Images]
— —
>> Follow Ken Meyer (@KenMeyer91) on Twitter
Have a tip we should know? tips@mediaite.com