State Dept. Issues Global Travel Warning, American Embassies Close Ahead Of Al Qaeda Terror Threat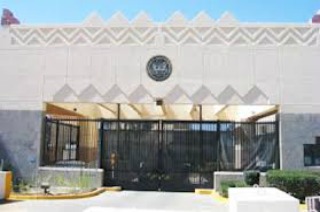 American embassies in North Africa, the Middle East, and South Asia will be closed on Sunday after U.S. officials received warning of a credible but non-specific terror threat to those targets. Following the announcement of the closure, the State Department issued a global advisory to Americans planning to travel abroad warning of a potentially imminent terrorist event targeting Americans.

Embassies will be closed on Sunday in Afghanistan, Egypt, Iraq, Bahrain, Qatar, Bangladesh, Jordan, Oman, Saudi Arabia, Algeria, the United Arab Emirates, Yemen, and Lebanon.
"Security considerations have led us to take this precautionary step," said State Department spokeswoman Marie Harf on Thursday.
RELATED: Why Does It Matter If President Obama Calls The Boston Marathon Bombing An 'Act Of Terror'?
On Friday, the State Department issued a blanket warning to the American public to be cautious while traveling abroad.
"Current information suggests that al-Qa'ida and affiliated organizations continue to plan terrorist attacks both in the region and beyond," the warning reads. "and that they may focus efforts to conduct attacks in the period between now and the end of August."
Terrorists may elect to use a variety of means and weapons and target both official and private interests. U.S. citizens are reminded of the potential for terrorists to attack public transportation systems and other tourist infrastructure. Terrorists have targeted and attacked subway and rail systems, as well as aviation and maritime services. U.S. citizens should take every precaution to be aware of their surroundings and to adopt appropriate safety measures to protect themselves when traveling.
The terror warnings are believed to be linked to the conclusion of the Muslim holy month of Ramadan on August 7. On September 11, 2012, the coordinated attack on an American consulate in Benghazi, Libya, also was conducted at the conclusion of that holy period.
> >Follow Noah Rothman (@NoahCRothman) on Twitter
Have a tip we should know? tips@mediaite.com