Steve Bannon Has Reportedly Been Urging Mark Cuban to Run in 2020: 'They Talk Regularly'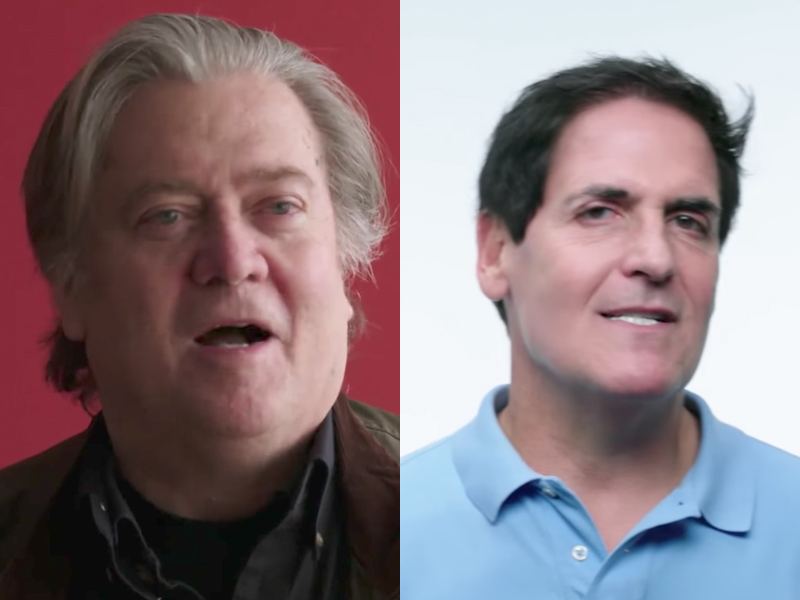 A wise somebody once said that politics makes strange bedfellows. Case in point? Steve Bannon has reportedly been urging Mark Cuban to run for president in 2020 as a Democrat. Wait, what?
Unnamed sources told the Daily Beast that Bannon has been encouraging Cuban to make a go of it in three years, noting that his best chance at victory lay in identifying as a Democrat. Perhaps the two aren't such strange bedfellows after all? Sure, Cuban has trolled the president a few times and campaigned on behalf of Hillary Clinton, but the ties that bond billionaires run deep (so I hear.)
"They talk regularly," said Sam Nunberg, a former Trump adviser who is close to Bannon. "They're very similar. They have a lot of synergy there. Even when [Steve] went to work for Trump, Mark would be interviewed and say nice things about Steve."
The Dallas Mavericks owner downplayed his relationship with Bannon, telling Daily Beast that he "texted with him a few time[s]" and that none of the texts had "been more than one full sentence." It is worth noting that the two were spotting sharing a meal together just two weeks after the 2016 election, causing some to speculate about a budding bromance. Also, Breitbart has run several favorable stories about the Shark Tank panelist.
Bannon has expressed doubts that his former boss would even run for a second term, reportedly saying that President Donald Trump only has a 30 percent chance of finishing this term.
Cuban, for his part, has been openly flirting with a 2020 run for quite some time, though saying he would run as a "Republican before Democrat and most likely independent." He has also stated that he would only run if he had "solutions" for the American people.
"It's possible. When I have something to offer, I will," he said.
Hey, he couldn't be much worse a candidate than Cuomo, right?
[image via screenshot]
—
Follow Lawrence Bonk (@sidescrollers) on Twitter
Have a tip we should know? [email protected]