Alabama Lawmaker on Roy Moore's Accusers: 'Someone Should Prosecute and Go After Them'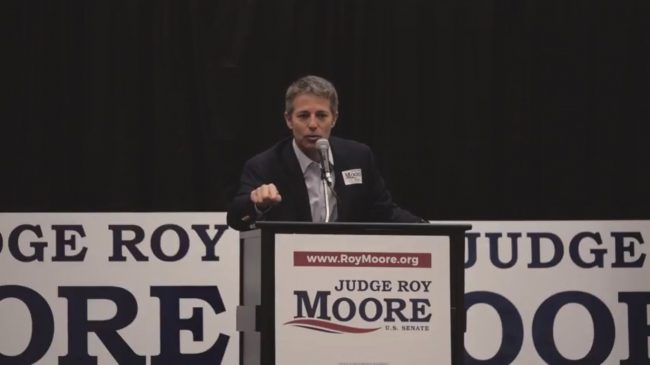 In the wake of the explosive allegations of teen sex abuse made against Alabama GOP Senate candidate Roy Moore, many Republicans in Washington have called for Moore to drop out of the race.
Meanwhile, other conservatives have rallied around Moore, especially in the state of Alabama. The state's auditor cited the Bible in his defense of Moore while stating the accusations were "much ado about very little." Moore's brother straight-up compared the ex-judge to Jesus Christ while saying this was all a plot hatched by the media and Democratic Party to derail Moore's campaign
In a conversation with Alabama local paper The Cullman Times, State Rep. Ed Henry (R-Hartselle) took it even further. He believes the women should face legal repercussions for coming forward so far after the incidents allegedly occurred.
The Republican lawmaker questioned the timing of the accusers coming forward, stating that one "cannot tell me there hasn't been an opportunity through the years to make these accusations with as many times as he's (Moore) run (for office) and been in the news."
"If they believe this man is predatory, they are guilty of allowing him to exist for 40 years," he added. "I think someone should prosecute and go after them. You can't be a victim 40 years later, in my opinion."
He also echoed the sentiments of Moore and his family by claiming that these women may possibly be receiving money from the Democratic Party to make these allegations.
"I'm not buying it," Henry said. "It's too easy for someone to make these accusations. It's foolish to go down that road, it's like what if a frog had wings, he wouldn't bump his ass every time he jumps."
Henry would further call Sen. John McCain (R-AZ) and Senate Majority Leader Mitch McConnell "two of the biggest goobers we have in Washington" while ripping them for calling on Moore to step aside.
[image via screengrab]
—
Follow Justin Baragona on Twitter: @justinbaragona
Have a tip we should know? tips@mediaite.com