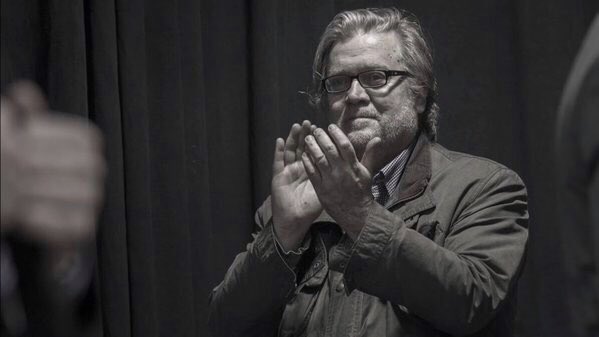 Former White House chief strategist Steve Bannon is using his website Breitbart News to run a discrediting campaign against the women who have come forward to accuse GOP Alabama Senate candidate Roy Moore of pursuing sexual relationships with them when they were teenagers and he was an adult.
The Washington insider publication Axios reports the website has shipped-off reporters Matt Boyle and Aaron Klein to Alabama where they aim to poke holes in the stories of Moore's accusers. The two Bannon lackeys have already started their investigation into the women, as Klein published a story today suggesting one allegation could be false due to a previously unreported "key detail."
"Speaking by phone to Breitbart News on Saturday, Corfman's mother, Nancy Wells, 71, says that her daughter did not have a phone in her bedroom during the period that Moore is reported to have allegedly called Corfman – purportedly on Corfman's bedroom phone – to arrange at least one encounter," wrote Klein.
Despite Breitbart suggesting this "key detail" discredits Leigh Corfman's claims — who is accusing Moore of initiating physical relations with when she was 14 and he was 32 — the woman's mother still supports the allegations and has noted the phone could "easily" be used in her daughter's bedroom.
Bannon running defense for Moore — regardless of the nastiness of these allegations — is hardly surprising, as the Breitbart kingpin aggressively campaigned for the former Alabama Supreme Court chief justice during his primary run against Senator Luther Strange. Moore has vehemently denied the allegations, calling them "completely false and misleading" — though he previously admitted to dating "a lot of young ladies."
[featured image via screengrab/YouTube]
Follow the author on Twitter (@calebecarma).
Have a tip we should know? tips@mediaite.com