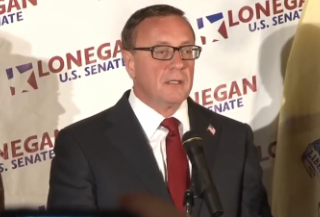 In an interview with NJ.com, Republican Senate candidate Steve Lonegan attributed his recent electoral loss on the government shutdown.
"There is no doubt in my mind or in the minds of any of my campaign staff that the shutdown cost me the election," Lonegan said in an interview published Monday. "If I had known it was going to happen and that it was going to be handled so badly in Washington, I wouldn't have run for Senate."

Lonegan had supported the shutdown during his campaign to fill the Senate seat recently vacated by the late Frank Lautenberg. In the special election, Lonegan lost to the Democratic nominee, Newark Mayor Cory Booker, by a margin of 55% to 44%.
According to Lonegan, the former Republican mayor of Bogota, N.J., momentum was on his side prior to the October 1st shutdown. At that point, polling data showed him down by only 13%, as opposed to the 30% deficit he faced earlier on.
In the interview, Lonegan contends that his strategy was to pull within 10% and then spend the final two weeks hammering Booker and the Democrats over Obamacare. But when the shutdown hit, Lonegan was forced to align himself with the tea party elements of the GOP that were being lambasted by both the mainstream press and powerful factions of the party itself.
"I had no choice," he said. "You either have to attack your party or be a team player. I was a team player."
The way his party handled the shutdown, he asserted, cost him any chance of pulling closer to Booker. "The Republicans in Washington fumbled it terribly and it became all about the shutdown and the debacle of Obamacare's launch was lost," he told NJ.com.
— —
>> Follow Andrew Kirell (@AndrewKirell) on Twitter
Have a tip we should know? tips@mediaite.com