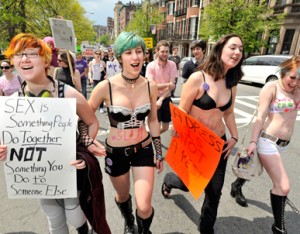 The name may sound sweaty and vaguely recall the scent of old cabbage, but, you guys, we're officially entering "The Summer of Sluts."
Since one and a half instances of something happening in the public eye equals a trend, we can thank MSNBC's Ed Schultz for giving this summer its pleasantly alliterative title. You'll recall that Schultz recently called radio host Laura Ingraham a "right-wing slut," an offense that was taken in stride by Ingraham, who accepted Schultz's subsequent apology, but one that resulted in a week-long suspension for the liberal pundit.
It was, interestingly, MSNBC.com that pointed to that incident, as well as the recent wave of Slut Walks" inspired by one police officer's insensitive comment, as the impetus behind this Summer of Sluttitude:
The walks, which began in April after a Toronto police officer advised women in a York University audience not to dress like a "slut" to avoid sexual assault, are not only attempting to raise awareness about sexual violence, but to redefine the meaning of "slut."
This is a delicate topic to discuss, but it's one well worth the effort. So here we go.
I am all for treating language as something that lives and changes with time, and I think it's totally possible to alter the meaning or connotation of words to great effect. For example, I think Bitch magazine has done a great job of taking a pejorative term that seeks to equate ambitious, confident women with a lower being and turning it into a badge of pride for its readers. The meaning of the term "bitch" may not have changed in society at large because of one feminist magazine, but it does represent the reality that some women won't allow themselves to be subjected to sexist language. Human skidmarks have the freedom to hurl unsavory language my way should I elect not to respond to their coos of "Hey mama, what's good?" and I have the freedom to choose not to be bothered by it, because, you know. Skidmarks. Alternately, I have the freedom to be very bothered by it, and to try and turn a bad situation into a positive by speaking out.
So, good for that!
Now, I consider myself a feminist, while fully realizing that capital F Feminism, as a movement, has many flaws and that the term feminism contains so many variations and inconsistencies and subgroups so as to be rendered almost meaningless, but, hey. I believe we live in an unjust, patriarchal society and women can and should assert themselves in a way to achieve a greater balance. I also believe that women shouldn't be coddled or infantilized by society, and that this means taking responsibility for ourselves and our decisions.
When women are raped and harassed and catcalled, it's not the fault of women. Repeat: It is not the victim's fault. But walking with a designer purse brimming with cash in a dark alley at 3 in the morning is placing myself in a dangerous situation, and I know that. A good person can walk by and leave me alone, because that person isn't a thief. But my decision makes me vulnerable to those who are thieves, and to those who would take advantage of me in this situation because, you know. They can. Women should be able wear what we'd like without fear of being assaulted or attacked or belittled, but this isn't the reality of how the world we live in works, and so it's up to us to remain aware. (In fact, my favorite protest sign ever comes from one such slut walk. Here it is.)
That said, I think a lot of men – and many women – don't realize that catcalls and harassment are not the result of an outfit. Men bother women wearing short skirts and tight dresses, and they bother women wearing bulky winter coats and worn-out snow boots. They harass young women, they harass older women. They assault conventionally attractive women, and those less so. They go after drunk women, and they go after sober women. They target complete strangers, and, more often than not, they go after women they know.
These so-called "Slut Walks" are positive in that they very publicly and very loudly assert that women and their male allies aren't going to stand for being patronized by one police officer or by a whole system. But this issue isn't black and white, and dictating the reactions of others is nearly impossible, while educating others might eventually get us somewhere.
Here is what one organizer has to say about the walks:
"We have taken up the word slut … to claim that a slut does not have to remain a pejorative and demeaning epithet," Toronto Slut Walk organizer Heather Jarvis told me. "A slut can be someone who is in control and unashamed of their sexuality…. A slut can be someone who is unafraid to enjoy consensual sex. A slut can be someone who refuses to believe…that enjoying sex or owning one's sexuality is an invitation of violence."
And therein lies the biggest issue I have with these walks.
Enjoying sex =/= dressing in any particular way. You can be a proud slut in a pair of jeans, and be a woman in a tight dress who, you know, enjoys being fashionable, but just doesn't really enjoy sex all that much. Saying that "dressing like a slut" means someone is proudly and loudly asserting her sexuality only works to bolster the idea that women dress a certain way in order to gain sexual attention, as opposed to because it's fashionable or because New York City turns into a festering pit of heat and humidity in the summertime.
And then there's the reality that there's no real male equivalent for the word "slut." Using this word as either a source of pride or empowerment, or even as a seemingly innocuous term of endearment among friends ("'Sup, slut? Can you untag me in that Facebook picture where I look like a baby rhino? Much obliged, you silly whore. Kisses.") still works to maintain an imbalance in how women and men are perceived when it comes to sex and sexuality.
So, here are my plans for the summer: I'm going to continue to dress and behave in a way that feels comfortable for me. I'm going to continue to get catcalled from time to time, and I'm going to either ignore it, internalize it, or lash out at it, depending on how I'm feeling at that particular moment. I'm going to make sure not to put myself in particularly dangerous or vulnerable situations, while remaining aware that there is still no way of fully knowing which guys out there pose a threat to me.
And I'm probably not going to be referring to myself as a slut anytime soon. But, hey. More power to you if you choose to.
Have a fun, safe, happy summer, you sluts.
h/t MSNBC.com
Have a tip we should know? tips@mediaite.com