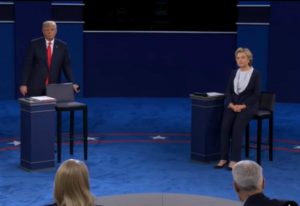 While the television ratings for last night's presidential debate in St. Louis were down considerably compared to the first one at Hofstra University, the second debate did set one record.
Per the New York Post, the Sunday night showdown between GOP nominee Donald Trump and Democratic candidate Hillary Clinton was tweeted about more than 17 million times. Three moments in the debate really set fingers a-tapping.
The top three moments of the 90-minute town hall that really lit up the Twittersphere came from Trump, including his admission that he hadn't discussed his Syrian policy views with his running mate.

"He and I haven't spoken and we don't agree," Trump said when moderator Martha Raddatz pointed out that the position he had laid out differed from Mike Pence's opinion that US military strikes may be necessary in the war-torn country.

People also fired off tweets about Trump saying he was a "gentleman" because he let Clinton go first on a health care question posed by the audience.

And Trump's unprecedented threat to hire a special prosecutor to look into Clinton's email scandal rounded out the debate's Twitter highlights.
In terms of the most popular tweet of the night — with over 80,000 retweets — that belonged to Brooklyn College professor Moustafa Bayoumi.
I'm a Muslim, and I would like to report a crazy man threatening a woman on a stage in Missouri. #debate

— Moustafa Bayoumi (@BayoumiMoustafa) October 10, 2016
As far as whose Twitter account benefited the most from the debate, Hillary received 25,000 new followers Sunday night compared to Trump's 16,000. However, Trump still has more than 3 million total followers than Clinton.
[image via screengrab]
–
Follow Justin Baragona on Twitter: @justinbaragona
Have a tip we should know? [email protected]