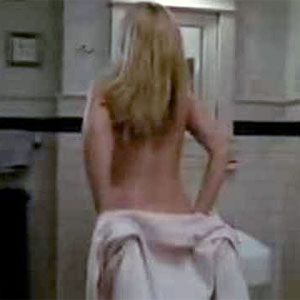 On Thursday morning the Supreme Court ruled against the Federal Communications Commission in favor of broadcast networks in a case involving fleeting expletives and brief nudity on TV. The decision doesn't weigh in at all on First Amendment issues surrounding the FCC's authority to ban broadcast indecency, but rather it essentially tells the commission that it cannot enforce vague guidelines when the networks aren't fully aware of them.
The case involved three instances of "fleeting expletives" or brief nudity: singer Cher saying "So fuck 'em" in an awards show acceptance speech on Fox; actress Nicole Richie' unscripted saying of "Have you ever tried to get cow shit out of a Prada purse? It's not so fucking simple" while presenting a Billboard Music Award on Fox; and ABC's airing a brief shot of a woman's nude buttocks (pictured above) and side-breast during a 2003 episode of NYPD Blue.
Each of those instances occurred before the FCC's 2004 "clarified" indecency policy, which added fleeting expletives as possible indecency, yet the commission tried to hold the networks liable despite the rule not existing when the actual indecencies occurred.
Justice Anthony Kennedy wrote in his majority opinion that the regulatory history "makes it apparent that the Commission policy in place at the time of the broadcasts gave no notice to Fox or ABC that a fleeting expletive or a brief shot of nudity could be action­ably indecent; yet Fox and ABC were found to be in viola­tion." With that in mind, the Court ruled that they could not be held liable.
This decision is a victory for clearer, simpler rules but, as Reason's Peter Suderman rightly notes:
The decision punts on the fundamental First Amendment questions. Because the case was decided on due process grounds, the Court says it does not need to consider the constitutionality of the FCC's longstanding ban on broadcast indecency […] [T]he FCC will still have considerable freedom to regulate speech it deems indecent. That leaves us with an old problem: The FCC's indecency policy, which attempts to judge whether content is "patently offensive as measured by contemporary community standards" is inherently vague. It's a mysterious and arbitrary standard, and no one really knows what it means — including and especially the FCC.
Free speech advocates will take the minor victory for now, but hopefully the Court holds the FCC on trial for the commission's unconstitutional indecency regulations which only serve to chill speech and confuse the heck out of everyone.
>> Follow Andrew Kirell (@AndrewKirell) on Twitter
Have a tip we should know? tips@mediaite.com