Sure, Clinton Couldn't Use a MetroCard, But Remember These Presidential 'Everyman' Gaffes?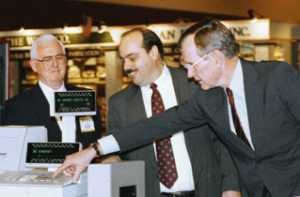 Everyone has spent their morning discussing Hillary Clinton's big ride on the 4 train in the Bronx today. In case you didn't hear, while Clinton was endeavoring to appear to be a totally normal, everyday person in the state that elected her as a senator not once but twice, she — like all of us! — struggled to swipe her MetroCard and get through the turnstile.
Indeed, some people might see that moment as the real humanizing part of the whole publicity stunt, but it is hardly the first time a candidate or president has botched trying to appear so normal, so average, so in with the crowd.
When President Gerald Ford visited San Antonio in 1976, he picked up a tamale that was still wrapped in its husk and just bit right into it. This was branded "The Great Tamale Incident." Seriously, the Great Tamale Incident. For anyone who plans to spend today complaining that Clinton's MetroCard swipes "are what counts for news these days," may I please preemptively remind you of The Great Tamale Incident?
What about the time Michelle Obama went to Target and a top White House photographer from the AP just so happened to be there and just so happened to get a great shot of the First Lady buying household items at a reasonable price? Everyone — even we here at Mediaite — called that suspicious.
Shopping is treacherous for a candidate, too. Rudy Giuliani infamously and severely underestimated the price of a gallon of milk in 2012. President George H. W. Bush reportedly expressed amazement at the incredible technology known as grocery scanners and while some people insist this never happened, the incident absolutely damaged H.W.B.'s cred among the normal people.
Another thing that some people claim never happened the way it was reported was Bill Clinton's "hairgate." Allegedly, in 1993, the president sat on the tarmac at LAX to get a $200 haircut in Air Force One. It was said at the time that air traffic was held up considerably and while some people claim this was all blown out of proportion, they don't just give out Wikipedia pages for inconsequential events.
John Kerry came under fire for asking a cheesesteak restaurant in Philadelphia to replace the traditional Cheez Whiz with Swiss for his sandwich, which he was then photographed nibbling at "daintily."
In closing, let's look at Mitt Romney. Mitt Romney used his run for the presidency in 2012 to demonstrate repeatedly that the public's perception of him as an out-of-touch fancypants was pretty accurate. There was the time he referred to sports as "sport" like a private schoolboy. Remember the time he said his speaker's fees are "not very much" and then reporters learned that they were $360,000?
Clinton's misstep on the subway is probably not going to stay in the news much longer than a few days, but it has good company as a story that will be told and retold whenever someone wants to talk about how out of touch politicians really are. At the very least, this can't be worse for her than the barking thing.
[image via screengrab]
For more from Lindsey, follow her on Twitter.
This is an opinion piece. The views expressed in this article are those of just the author.