Surreal Clash Between Trump, Pelosi and Schumer Leaves Observers Stunned: 'What a Freaking Circus'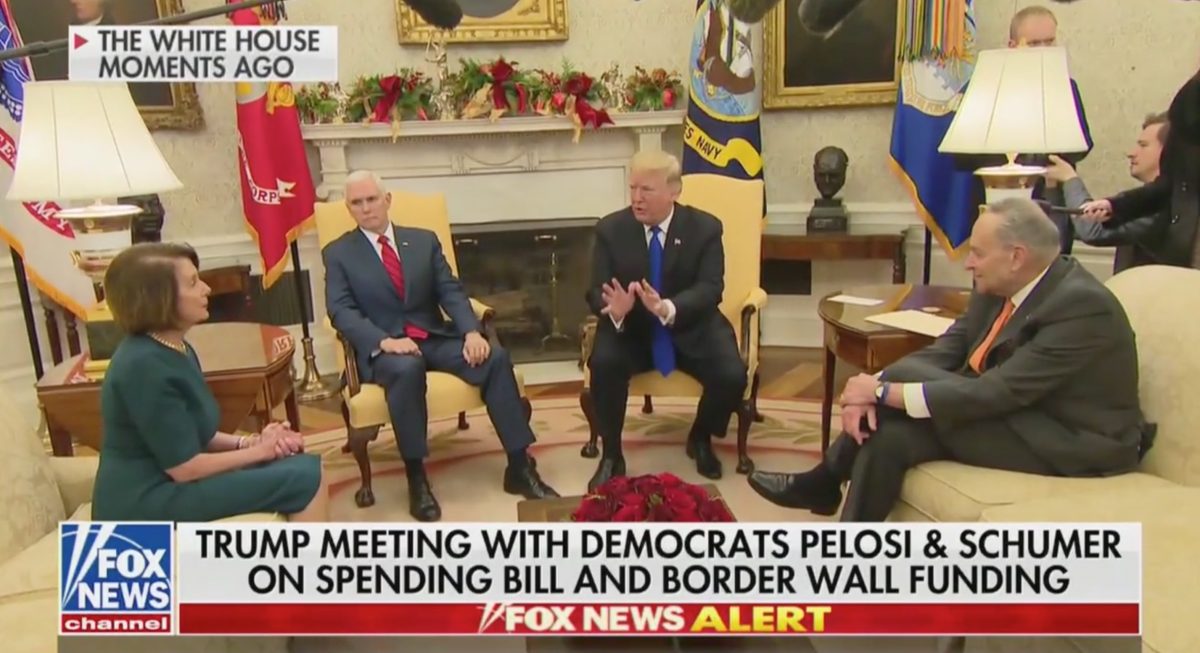 The Twitterverse collectively lost its mind on Tuesday after President Donald Trump's meeting with Senate Majority Leader Chuck Schumer (D-NY) and House Minority Leader Nancy Pelosi (D-CA) spiraled way out of control.
The president met with the two Congressional Democratic leaders to discuss a new government spending package and possible funding for Trump's Southern border wall. But the conversation became free for all as the three took shots at each other, bickered over the divided state of the government, and argued whether the wall is actually conducive to border security and not just a Trump campaign vanity project.
Some people were agape as they watched Trump promise to take responsibility for a government shutdown if he and Congress cannot reach an agreement on the wall.
Accepting full blame for a shutdown on camera to own the libs

— Allahpundit (@allahpundit) December 11, 2018
The Christmas Prince never had a government shutdown

— Griswold Christmas Vacation (@HashtagGriswold) December 11, 2018
What.A.Dope. https://t.co/l3TfpAHGgH

— Jennifer Rubin (@JRubinBlogger) December 11, 2018
In the oval @NancyPelosi warns of a "trump shutdown" and sets @realDonaldTrump off. This is must see tv.

— Dana Bash (@DanaBashCNN) December 11, 2018
Going to be really hard to blame the shutdown on Democrats now…https://t.co/QBNUiPAMrp

— Frank Luntz (@FrankLuntz) December 11, 2018
Trump promised the American people that Mexico would pay for his wall. Now he's willing to trigger a Christmas shut down because he can't get his way. Childish. #TrumpShutdown pic.twitter.com/TDbPg0enVK

— Yvette D. Clarke (@RepYvetteClarke) December 11, 2018
And then, there were people who were just struck as they watched the entire conversation plunge into chaos.
When you put an entitled, overgrown adolescent into the Oval Office with no understanding of how to negotiate a deal beyond yelling and threatening, you get what we just had in that pool spray.

What a freaking circus.

— Bradley P. Moss (@BradMossEsq) December 11, 2018
Trump could've funded the border wall by making that meeting pay-per-view.

— Erick Erickson (@EWErickson) December 11, 2018
Honestly makes me say it: The most statesman-like person in charge in that WH disaster was Pelosi. Second place to Schumer for baiting Trump into owning a shutdown. Honorable mention to Pence for willing himself to blend in with the furniture.

— Tom Nichols (@RadioFreeTom) December 11, 2018
In case you missed it, here's a live look at the Oval Office meeting between Trump, Chuck and Nancy…. pic.twitter.com/zuQK1nthE6

— Jonathan Capehart (@CapehartJ) December 11, 2018
how i feel after watching the pelosi-schumer-trump exchange pic.twitter.com/hw0bRAfaLZ

— Oliver Willis (@owillis) December 11, 2018
They never have bickering fights like this in Wakanda.

— Stephen Miller (@redsteeze) December 11, 2018
I'm watching Trump, Pelosi, and Schumer bicker about the budget and the wall. This spectacle is beneath the dignity of this country.

— Peter Daou (@peterdaou) December 11, 2018
— —
>> Follow Ken Meyer (@KenMeyer91) on Twitter
Have a tip we should know? tips@mediaite.com