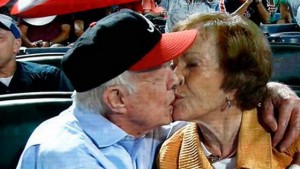 If the author of a letter to the editor published on Syracuse.com last Friday has his way, the famous "kiss cam" employed at countless sporting venues across the country might go the way of the misogynistic dodo. That's because, following said letter, Syracuse University will discontinue its use of the gag at the school's Carrier Dome on Saturday.
On the one hand, this seems like yet another example of political correctness gone mad. Without the popular kiss cam, moments like former president Jimmy Carter's loving smooch with his wife Rosalynn Carter will never again grace the next day's newsfeeds. Yet after reading the Syracuse.com letter, the reasoning behind the school's decision begins to make some sense.
"The first two people (and probably most people that wind up on the kiss cam) were happy to oblige the camera," writes Steve Port of Manlius, New York. "However, the cameraman then scanned into the student section where a young man and a young woman were shown. Clearly not a couple, the male student pleaded his case for a kiss on the big screen while the female adamantly shook her head no. So what does this guy do? He grabs her head and shoves his tongue down her throat, the crowd cheers."
Port continues, saying that the third kiss cam target also appeared to be yet another non-couple, and the female student again shook her head "no." This time, members of the crowd sitting behind her forcibly shoved her face into the man's.
As Charley Hannagan notes in her followup, several commenters questioned Port's recollection of the kiss cam exchanges. Yet many more agreed with the letter to the editor, citing everything from the camera operator's poor judgment in determining relationships, to whether or not episodes like those described legally qualify as assault.
Needless to say, Hannagan's post is barely 24 hours old and its comments section is already rife with the human cesspool that is the internet.
[h/t The Big Lead]
[Image via screengrab]
— —
>> Follow Andrew Husband (@AndrewHusband) on Twitter
Have a tip we should know? [email protected]