Tamron Hall Goes After Scott Baio For 'C-Word' Tweet About Clinton, Leaves Him Stuttering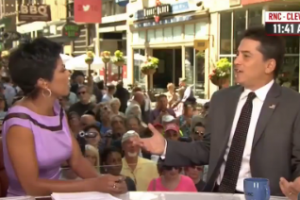 Former Vh1 "Celebreality" star Scott Baio has had a big week! He got to speak at the Republican National Convention and he had a Twitter scandal. He was already confronted about the tweet he sent out that showed a meme which pretty clearly implied Hillary Clinton is a "c-word" once, on CNN, but Tamron Hall grilled him even harder today on MSNBC.
First, she asked about his speech, jokingly inquiring if it was plagiarized in a reference to the speech given last night by Melania Trump, which heavily featured lines from one of Michelle Obama's old speeches. He played dumb, saying he'd heard the "jokes" about that speech, but didn't know what had happened. Hall then grilled him on his resistance to socialist ideas and asked if he thought it was hypocritical for Republicans to favor social security so heavily and decry other similar programs. He gave a vague answer about his reading habits, but then, the real interrogation began.
"Did you think about that while you were in church?" she asked the ostensibly religious former child star of the offending tweet.
He said that he had simply presented the picture without commentary and tried to pivot the conversation and accuse Hall of questioning his faith. She wasn't having that and countered by reminding him that he questions the faith of people he doesn't know every time he says America needs to "bring back religion."
She asked him why he blocked her on Twitter next and he floundered a moment before saying it "might have been a mistake."
Next, he threw out a bevy of excuses for his rude tweets about Clinton and the First Lady, saying that as "a guy from Brooklyn," he and his buddies make fun of everyone's wives while they smoke cigars. No, seriously. He really, truly said that because he is from Brooklyn, making fun of people's wives is just what he does. Quote: "We do it about everybody's wife! I do it about my friend's wife! I do it about all politicians' wives!"
Keep watching until the end to see her stop Baio from accusing her of being racially divisive by saying, "I do this for a living. You can't chop my words up." It dissolves into loud interruptions shortly thereafter.
[image via screengrab]
Have a tip we should know? tips@mediaite.com