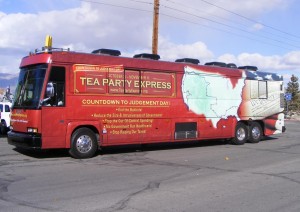 A recent fundraising plea from the Tea Party Express contains some selling points that are counter-intuitive, at best. Mediaite has obtained a fundraising email from the group in which they oddly point out that, after sending out a solicitation to over 400,000 members to raise $1 million, "we failed – all of us.  As of this evening only 250 people made a contribution."
Rallying the troops is one thing, but advertising your own irrelevance is quite another. Check out the full email after the jump.

It is important to note that, despite the support and participation of former Alaska Governor Sarah Palin, the Tea Party Express is viewed with a great deal of suspicion among many within the movement. In April, Politico got ahold of an internal TPE memo that explicitly laid out the group's plan to exploit the movement. More recently, Tea Party Express organizer Mark Williams drew fire for a response to the NAACP's Tea Party resolution in the form of a letter to Lincoln from "colored people," after which he was widely denounced within the movement.
Here's the full text of the Tea Party Express fundraising email:
This morning we put a call out to 400,000 patriots across this nation – including yourself.  Our plea was to get constitutional conservatives such as yourself to pitch in to our final election push as we are just 1-week away from Election Day.

Our goal:  to raise $1 MILLION so that we could push the best constitutional candidates in the country over the top to victory.  We'd then with the House, and perhaps even the Senate.

But we failed – all of us.  As of this evening only 250 people made a contribution.

This is one of the greatest failures we here at the Tea Party Express have ever had in terms of raising money for a campaign push, and this is the worst possible time for us to fail:  just 1 WEEK out before Election Day.

We MUST do better.  Everyone can pitch in, and everyone can forward this email to all their friends, family members, colleagues etc…  If EVERYONE pitches in, and if those of you who can afford a more generous contribution can please do so, then we can reach this goal and help take our country back.  The stakes couldn't be higher, and we cannot accept failure at this point.  We simply can't – our country's future is on the line here.

We basically have a socialist in the White House who believes in the redistribution of wealth and government intervention and control into the lives of Americans.  We can only stop him if we first take back Congress.  But 250 people contributing – versus the hundreds of millions we're up against from lobbyists, special interests and labor unions – that won't cut it.

If every person reading this email can make a contribution today we will meet our goal.  Some of you will be able to afford a more generous contribution of $100, $250, $500, $1,000 or more up to the $5,000 allowed maximum contribution.  This is it – our last chance to win these races.  We are counting on you for your support.

Please support this effort by making a contribution online – HERE.

Again, to those of you who can contribute a larger amount of $250, $500, $1,000, $2,500 – or up to the maximum allowed contribution of $5,000 per individual (married couples can contribute $5,000 each for a total of $10,000) – please help us out.  We're running out of time in this campaign, and yet we still have so much to do.

We here at the Tea Party Express will pledge to work morning, noon and night through Election Day.  We just need your support to help achieve a historic result!
Have a tip we should know? tips@mediaite.com