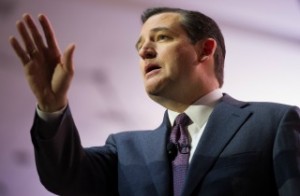 Sen. Ted Cruz announced Thursday that he had reeled in another endorsement from a radical Christian extremist — this one from Mike Bickle, as originally reported by Right Wing Watch. Bickle is the founder of the controversial International House of Prayer (IHOP), who has said that the "gay marriage agenda" is "rooted in the depths of hell," and that gay behavior "opens the door to the demonic realm."
Bickle is a luminary of the New Apostolic Reformation (NAR) movement, the tenets of which provide that God can present followers with additional revelation beyond Scripture, empowering church leaders like Bickle with the status modern-day prophet. NAR follows Dominionist doctrine, which holds that Christians can and should exert influence and control over every aspect of society, including government.
In 1999 Bickle founded the Kansas City, Missouri-based collective IHOP, which the Texas Observer has described as "a sort of command headquarters and university for young End Times enthusiasts." IHOP is known for recruiting young Christians to participate in a nonstop, 24-hour prayer vigil, and convincing them that they will become leaders of God's army in the End Times. The group has courted controversy that it is a cult. Rolling Stone reported in 2014:
IHOPers pray all day and night, through blizzards and blackouts, in hours-long sessions of mesmeric, musical worship, repeating the same phrases over and over, expecting to precipitate the Great Tribulation and the final battle between good and evil that precedes the Second Coming of Jesus Christ.
"I am grateful for Mike's dedication to call a generation of young people to prayer and spiritual commitment," Cruz said.
Cruz's press release announcing Bickle's endorsement reads: "The International House of Prayer is engaged in many outreaches, justice initiatives, and mission projects." The release does not mention that among these "outreaches" were missionary efforts in Uganda, where senior members of the group preached vociferously against the evils of homosexuality, and praised the Ugandan government for its "courage" and "righteousness" in drafting the so-called "Kill the Gays Bill."
Bickle has also called Oprah a harbinger of the apocalypse, condemning her a "pastor" of the "Harlot Babylon," which is "preparing the nations to receive the Antichrist." He has cited her mission to "feed the poor, have humanitarian projects, [and] inspire acts of compassion for all the wrong reasons," as basis for his claim.
Bickle joins the long list of radical pastors who have thrown their weight behind Cruz. "With the support of Mike and many other people of faith, we will fight the good fight, finish the course, and keep the faith," Cruz said.
[h/t RWW]
Have a tip we should know? tips@mediaite.com