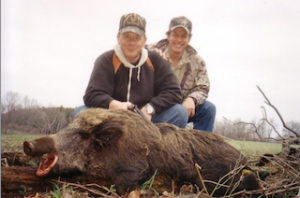 Jeffrey Nugent is a member of the NRA and a strong defender of the Second Amendment. But there is one major difference between him and his brother, rocker and gun-rights advocate Ted Nugent: he believes in expanding background checks.
Seen above with his brother Ted and a wild boar they killed in 2006, Jeffrey Nugent penned an op-ed for the Washington Post outlining his arguments from expanding background checks for gun purchases. In the article, he writes he and his brother "both understand that guns constitute deadly force, so safety is foremost in our minds." And, he says, they agree that "our constitutional right to bear arms should not be undermined." He then lays out their differences:
"But — and here is where I part ways with my brother — not everyone is qualified to own a gun, so expanded background checks should be a legislative priority.

I believe strongly that expanding and improving mandatory background checks will keep a lot of people who aren't entitled to Second Amendment rights from having easy access to guns. As of today, a convicted felon can find a gun show or a private seller and buy a firearm without a background check. That loophole should be closed. Every gun transaction must include a thorough background check. Why would responsible gun owners want to protect people who threaten not only our safety but our gun rights?

The NRA has it wrong: Irresponsible gun owners are bad for everyone. If you shouldn't have access to a gun, then there should be no way for you to access a gun! Can anyone argue with that?"
Jeffrey Nugent goes on to explain more of his reasoning for supporting background checks, demonstrating how his style differs from that of his brother. "Ted is someone who speaks in extremes to make his points," he writes. "It reflects who he is, and it works for him and his audience."
Ted Nugent has made his vehement opposition to expanded background checks known in a series of cable news appearances since the Newtown, Connecticut shooting, going head-to-head with CNN's Piers Morgan and others. On the Manchin-Toomey compromise bill that would have expanded background checks for purchases at gun shows and over the internet, Nugent told CNN's Erin Burnett, "I reject it out of hand as a feel-good measure that's not going to accomplish anything. It won't stop any shootings, that's for sure."
Read Jeffrey Nugent's full op-ed here.
—
>> Follow Matt Wilstein (@TheMattWilstein) on Twitter
Have a tip we should know? tips@mediaite.com