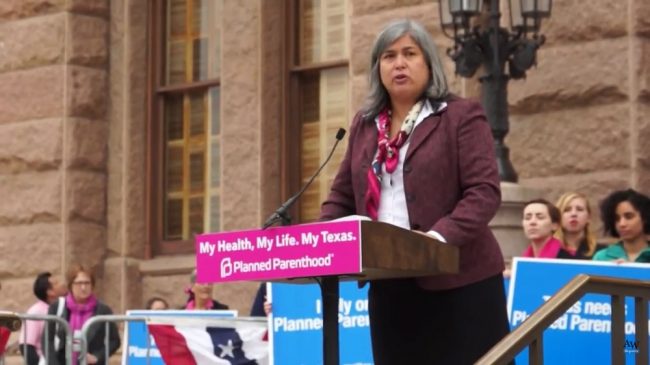 A Texas state representative prompted equal levels of praise and scorn after she introduced "satirical" legislation on Friday that clearly mocks pro-life laws and legislation.
Rep. Jessica Farrar's bill would "require men to wait 24 hours after an 'initial health care consultation' to receive an elective vasectomy, colonoscopy or Viagra prescription," according to a Monday report from The Washington Post by correspondent Travis M. Andrews.
Rep. Farrar calls her proposed legislation the "Man's Right to Know Act." On top of the waiting period, the bill would require "men seeking those procedures to receive a booklet of informational materials titled 'A Man's Right to Know,'" which will "contain medical information related to the benefits and concerns of a man seeking a vasectomy, Viagra prescriptions or a colonoscopy," according to the Post report.
The bill, if passed, would also levy a $100 fine for "unregulated masturbatory emissions" by men.
Andrews zeroed in on how the Houston Democrat singled out her Republican colleagues in a recent interview to the Texas Tribune newspaper: "What I would like to see is this make people stop and think. Maybe my colleagues aren't capable of that, but the people who voted for them, or the people that didn't vote at all, I hope that it changes their mind."
The Texas Tribune article disclosed that Rep. Farrar is an "outspoken proponent of abortion rights." Correspondent Alex Samuels included the Texas state legislator's explanation about the $100 fine:
In proposing a fine for masturbation, Farrar says that if a man's semen is not used to create a pregnancy, "then it's a waste … because that semen can be used  — and is to be used — for creating more human life."

Farrar continued: "Men have to answer for their actions and so forth. So if there's going to be an emission, it would have to be done in a hospital where the semen could be preserved for future pregnancies or it would be directly deposited into the vagina of a woman."
Rep. Farrar further outlined the point of her bill in a Sunday interview with the Houston Chronicle: "A lot of people find the bill funny. What's not funny are the obstacles that Texas women face every day, that were placed there by legislatures making it very difficult for them to access health care."
Andrews also spotlighted how left-wing commentators sang the praises of the House Democrat after she introduced the bill. The Post correspondent quoted a Friday tweet from "reproductive justice" reporter Teddy Wilson, who trumpeted how Rep. Farrar "expertly trolls" the Texas state legislature. The Huffington Post boosted this take in the title of their Monday article on the proposed law.
Conservatives had their own reactions to the legislation on Twitter. On Monday, National Review's Charles C.W. Cooke labeled it "the Non Sequitur Act of 2017." Commentator Matt Walsh gave a more blunt reaction several minutes later:
The modern Democrat Party summed up in one tweet: https://t.co/AqMIOzkPNG

— Matt Walsh (@MattWalshBlog) March 13, 2017
[image via screengrab]
This is an opinion piece. The views expressed in this article are those of just the author.