Thank You for Smoking: Seth Rogen Credits Rob Ford for Getting Movie Picked Up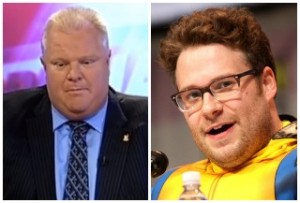 Seth Rogen and Evan Goldberg have been the creative masterminds behind Superbad, Pineapple Express and This Is The End, and recently they've been shopping around a movie about a politician who gets into serious trouble for smoking crack. Well, apparently, thanks to Rob Ford, the movie got picked up, and the two funnymen are giving the crack-smoking mayor of Toronto his due credit.

Rogen said that for years, "no one wanted to make it," but now, with Ford-mania dominating the international headlines, the concept got picked up, and they know exactly why it happened.
"Thanks to this crazy Rob Ford, it sold a week ago. We've been trying to make it for three, four years. And we were getting ready to take it out again; we did a big rewrite over the last year and we were revving up to take it out and then at the perfect moment, the real life version of this started to play out," said Goldberg."
Now, obviously, it's not a sure thing that the movie getting picked up had to do with Ford, but, let's face it. As Rogen put it, "One of the happy upshoots of that is that you know somewhere in Hollywood someone's like 'Man it would be great to have a script about a politician who smokes crack,' and someone was like 'There already is one. They've been trying to sell it for years.'"
[h/t POLITICO]
[photo via screengrab, Gage Skidmore]
— —
Follow Josh Feldman on Twitter: @feldmaniac
Have a tip we should know? [email protected]
Josh Feldman - Senior Editor