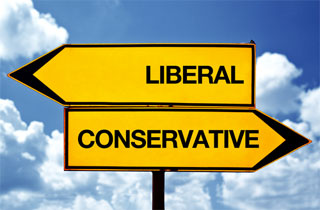 According to researchers, conservative nirvana exists, and it's in Alabaster, Alabama.
In a list released by Livability.com of the ten most liberal, conservative, and centrist cities in the country, the Birmingham suburb topped the conservative list, followed by Crestview, Fla., Clinton, Utah, and Bristol, Tenn. (The liberal cities included Somerville, Mass., Boulder, Colo., and, unsurprisingly, Berkeley, Calif.).

Using a combination of "Ideology of the representation; voting of the residents; political leanings of the residents; and how the shopping habits of the residents relate to political affiliation," Livability.com managed to identify where people along the political spectrum tended to live, and cities where they were clustered in high concentrations.
Some of the results aren't surprising: Liberals tend to live in college towns on the coasts, conservatives prefer the South and the Midwest, etc. But if your living situation depends on having everyone in your town believe in what you believe in, this list is useful.
The list is below, and you can go here for the full methodology:
10 best cities for liberals, 2014
1. Berkeley, California
2. Hoboken, New Jersey
3. Somerville, Massachusetts
4. Boulder, Colorado
5. Evanston, Illinois
6. College Park, Maryland
7. Ann Arbor, Michigan
8. Mercer Island, Washington
9. Alexandria, Virginia
10. Newport, Rhode Island
10 best cities for conservatives, 2014
1. Alabaster, Alabama
2. Crestview, Florida
3. Clinton, Utah
4. Bristol, Tennessee
5. Odessa, Texas
6. Yukon, Oklahoma
7. Slidell, Louisiana
8. Olive Branch, Mississippi
9. Peachtree City, Georgia
10. Benton, Arkansas
10 best cities for centrists, 2014
1. Spokane Valley, Washington
2. Bend, Oregon
3. Indio, California
4. Gainesville, Florida
5. Albany, Georgia
6. Boise, Idaho
7. Muncie, Indiana
8. Sparks, Nevada
9. Oregon, Ohio
10. Wildwood, Missouri
[h/t The Week]
[Image via Shutterstock]
—
>> Follow Tina Nguyen (@Tina_Nguyen) on Twitter
Have a tip we should know? tips@mediaite.com