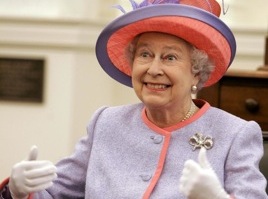 Making the first trip to New York since her last visit in 1976 when she was made "honorary New Yorker," Queen Elizabeth II will be completing a 10-day trip to North America tomorrow with a brief but jam-packed stopover in New York City. After spending nine days in Canada traveling with her husband, Prince Phillip the Duke of Edinburgh, the Queen's visit will center on a visit to Ground Zero, where 67 of her countrymen were killed on 9/11. The Queen also plans to visit the UN, addressing the General Assembly for the first time since 1957, four years after she was crowned.
Writing for the NY Times, Robert D. McFadden reports:
Now, in the twilight of a reign that has spanned 58 years, one of the longest of any British monarch, the 84-year-old queen is to visit New York on Tuesday for a third and perhaps final time, accompanied by her husband, Prince Philip, the Duke of Edinburgh. The royals will arrive in a private plane from Canada, where they have been traveling for nine days, and fly home to Britain in the evening.

Although the queen arrives in the summer's worst heat wave, she is not the wilting kind. The dark hair has gone white and the shoulders are a bit rounded with age now, but her step is still lively and the face engaged on a reception line or at a garden party as she shakes another hundred hands and speaks with simple dignity. She is addressed initially as "Your Majesty" and thereafter as "Ma'am."

What can a visitor do with less than a half-day in New York? Quite a lot, it seems, if she is moving through Manhattan's traffic morass in a motorcade escorted by police officers, watched over by cordons of federal, state and Scotland Yard agents and ushered through formalities by a protocol phalanx from City Hall and the State Department.
Though unreported at this point, at least one writer believes that the Queen's visit to the U.S. may in fact be part of a secret reconnaissance mission to learn how her soccer-playing subjects can better perform in the sport they call "football," by visiting the nation who bested her own in the Group Stage of the World Cup.
Have a tip we should know? tips@mediaite.com