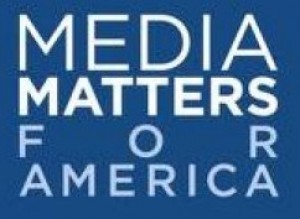 Last Thursday, Media Matters published an extensive (and somewhat breathless) account from an anonymously sourced individual that was only identified as a former Fox News Insider. The report included lots of detail that alleged Fox News' bias, with pithy quotes like "they're a propaganda outfit but they call themselves news" and "stuff is just made up," and was clearly intended as a scathing indictment of Media Matters' mortal enemy, Fox News.
While the story made some ripples in like minded sites like Think Progress and The Young Turks, the story made barely any mention in mainstream news outlets, and ended up serving as a stark reminder of Media Matters' growing irrelevance in the world of media criticism.
The report, written by Eric Boehlert, was likely seen by the progressive media watchdog group as a coup de grâce in their war against Fox News. The opening sentences give a clear indication of the direction, and point, of the article:
Asked what most viewers and observers of Fox News would be surprised to learn about the controversial cable channel, a former insider from the world of Rupert Murdoch was quick with a response: "I don't think people would believe it's as concocted as it is; that stuff is just made up."

Indeed, a former Fox News employee who recently agreed to talk with Media Matters confirmed what critics have been saying for years about Murdoch's cable channel. Namely, that Fox News is run as a purely partisan operation, virtually every news story is actively spun by the staff, its primary goal is to prop up Republicans and knock down Democrats, and that staffers at Fox News routinely operate without the slightest regard for fairness or fact checking.

"It is their M.O. to undermine the administration and to undermine Democrats," says the source. "They're a propaganda outfit but they call themselves news."
The story continues to explain the reasoning, process and evolution of how news and opinion intermingle on Fox News. But for reasons that aren't entirely clear, the provocative article was almost entirely ignored by the mainstream media. When reached by Mediaite, Ari Rabin-Havt, Executive Vice President at Media Matters, claimed the impact of the article was significant.
"More than 200,000 people read the story on MediaMatters.org this in itself shows the broad interest in this story."
Regardless of the actual numbers, imagine if this report had appeared on another site, such as Salon, Slate (or even, say Mediaite), there would likely have been some pick-up from various cable news outlets, websites, and newspapers.
Why would such a provocative and interesting piece get lost in shuffle? Perhaps because, in the current hyper-partisan landscape of opinion media (and watchdogs) it's difficult to take seriously a post that alleges that "stuff is just made up" from a story that is unwilling to identify its source. Boehlert's lack of a primary focus on journalism (versus agenda) undercuts the story as well as the fact that his sourcing narrative is often confusing (at one point, it seems as though he's referencing two different sources), and he fails to negotiate an attribution that would help the reader judge its credibility. Was this an on-air personality? An intern? A producer? Did this source leave Fox recently? Based on Boehlert's attribution, the source could be Keith Olbermann as far as the reader knows.
Boehlert also misses an opportunity to strongly highlight the connection between his source's allegations, and the internal documents that Media Matters has published, which would have lent his source added credibility and helped to "sell" the story.
That is not to suggest in anyway that this story is made up. Quite the contrary, Media Matters has been the place for some impactful reports over the last few years. But when their stated mission is "dedicated to comprehensively monitoring, analyzing, and correcting conservative misinformation in the U.S. media," it is very difficult to take such a report as an objective analysis, precisely because they are honestly owning their own subjectivity in their criticism. But Rabin-Havt explains:
As I stated before over the past several months Media Matters has made an effort to build sources among current and former Fox employees. In talking with many affiliated with the network one constant has been the fear of reprisals from Roger Ailes for speaking out. Therefore to tell the story of what Fox has become we have occasionally used material from anonymous sources. The documents and interviews these whistleblowers have provided paint a picture of a news network that has turned itself into a political operation. This is an important story to tell. In any case anonymous sources are used, readers need to assess the evidence and arrive at there own conclusions.
Just two or three years ago, Media Matters would have been described as exactly the sort of media organization the country needed. As a nation, we have been increasingly ignoring facts in favor of slogans, scapegoats, and sophistry; anyone yearning for facts, fact-checking (even with a partisan bend) serves our nation well. In fact, web sites like Politifact and both Media Matters on the left and Newsbusters on the right, served as inspirations during the creation of Mediaite. Much to the chagrin of some on the right, Mediaite still often cites Media Matters assessments and uses their clips (in much the same way our recognition of Newsbuster's angers many on the left.)
But something unfortunate happened, as Media Matters seems to have become exactly the sort of blindingly partisan, subjective, and even misleading site that it was created to monitor. So what happened? How did an organization committed to "notify[ing] activists, journalists, pundits, and the general public about instances of misinformation" get usurped by pedantic whiners who have transformed a noble idea into an irrelevant, publicity-seeking rag? Rabin-Havt is proud of their mission, and openly discounts any negative impact of their alleged subjectivity, saying "We openly acknowledge our mission as opposed to Fox News which absurdly claims to be Fair and Balanced. What should matter is if our work is accurate."
There is no question their mission remains to assault Fox News, sometimes intelligently and fairly so, and in ways that Media Matters' donors would and should most certainly relish. But often these days, a one sided media watchdog serves little practical purpose, and their posts feel at best like comfort food for like-minded believers of their mission, and at worst, the antics of a class clown starving for attention.
Media Matters was once a pioneering project that is now generating lower quality content than ever before. And with surprisingly small readership and diminishing sphere of influence (particularly considering how well-funded they are) maybe their donors should be asking if that money could be better spent funding websites where the Media actually Matters.
This is an opinion piece. The views expressed in this article are those of just the author.
Colby Hall - Founding Editor