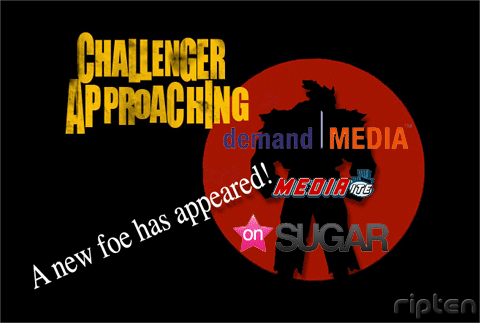 Who will define the next decade in media?
Gawker Media is in a strong position going into the next decade, but online media is still so young, and the barriers to entry are still so low, that its dominance is hardly assured. 400 million pageviews in November is a remarkable, market-defining number, but the number of people on the Internet is growing at a wild rate: it's not an unassailable moat.
Unless someone royally screws up, Gawker will probably continue to be quite profitable for the foreseeable future. But profitability and leadership are different things. The battle over the best model for a web media is far from over:
The snarky, bomb-throwing editorial voice on which Gawker prides itself could be its biggest liability. If the success of hackneyed puppet comedian Jeff Dunham has taught us anything, it's that a New York/LA sensibility ≠ the pulse of America. People who read blogs right now aren't the pulse of America either, but that's changing. A more upbeat sensibility like OnSugar's, which the New York Times described as "short, light and sarcasm-free, with big photos and headlines," could carry the day.
That said, Gawker broadened its focus and brightened its hues a few years ago to anticipate this; the snark factor has significantly dropped since the days of editors Jesse Oxfeld and Jessica Coen. The Nick Denton myth is occasionally overblown, but he does have a knack for foreseeing the big trends.
Older powers, which still have the most resources at their disposal, can reemerge. In Hearst's early days, the New York Times

was seen as a dusty old has-been, with a circulation of only 25,000; look at what happened. Given its bulk and age, the

Times

has done a remarkable job of evolving with the web. Most recently, it has built up a commanding presence in social media, thanks, in part, to digital partnership and social media whiz Soraya Darabi, who is soon to depart the paper for Drop.io. And the upward trending of its blogs — the more than seventy of which the

Times

is thankfully pruning this year — is further proof of the

Times

' willingness to experiment and innovate.
Ironically, Gawker has been moving in the opposite direction by hiring experienced reporters. Actual reporting, done in an opinionated but informed voice, may be the key to the successful blogging — or is it web publishing? — of the next decade.
Cheeky upstarts can materialize, seemingly from nowhere, and shake everything up in short order with new models previously undreamt. Old habits may die hard, but free habits — like which online publications you read — die easier and are reborn easier. Recall that Gawker was founded only in 2002.
Did you hear that Mediaite is launching some new sites, btw?
The biggest threat to Gawker — and to journalism — may well be the Demand Media/Associated Content model, which AOL has expressed interest in. That is: churning out thousands of posts a day which are poor on 'information' and 'originality' and 'being something a human being would want to read,' but which are search engine optimized the hell out of to get mountains of traffic from Google and Bing. Demand is expected to bring in

$200 million of revenue

this year, according to Wired. Search engines could always change up their algorithms in a more user-oriented direction and clean these companies' clocks — 90% of Associated Content's traffic comes from search — but these companies will try their darndest to game whatever new criteria emerge.
Update: responding to this article via Twitter, Nick Denton had this to say: "re article on Gawker decade: threat not from robots of Demand Media but charismatic sites like Huffpo and Finke's."
Of course, the next decade could still be Gawker's. The challenges will be substantial, and the Gawker Media of 2019 may not look much like the Gawker Media of 2009. When's the Chinese edition coming?
But as long as intelligence, snark, hard work, and the occasional character assassination continue to stir the human soul, they're not a bad bet.
>>>Follow the author of this post on Twitter
Have a tip we should know? tips@mediaite.com