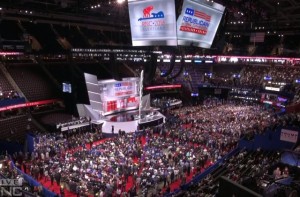 The Republican National Committee is complaining about how the major broadcast networks gave more time to the Democrats this week than to them last week.
As the Democrats' final night gets underway, we can see quite clearly that each network have given anywhere from 15 to 30 minutes extra per night of primetime coverage to the DNC. And this isn't just due to long speeches alone. All three networks cut away before 11PM on Monday night of the RNC's convention when Sen. Joni Ernst (R-IA), a rising star in our party, had yet to speak.

Based on our analysis, the networks from nights 1 thru 3, gave the DNC 13 hours and 21 minutes of coverage, while giving the RNC 9 hours and 47 minutes during the same nights. Democrats have been given nearly 40 percent more time during prime time to get their message out.
And yes, ABC, NBC, and CBS all hung on longer for the DNC the past three nights than the first three nights of the RNC last week.
So what exactly is the discrepancy here?
See, last Monday, Melania Trump ended her speech at 10:38, but the RNC didn't end with her. She was followed by Michael Flynn, Joni Ernst, CEO of The Underground Movement Jason Beardsley, and Congressman Ryan Zinke.
Then on Tuesday, Donald Trump Jr. ended his speech at 10:19, but again, the night didn't end with him. He was followed by Congresswoman Shelley Moore Capito, Ben Carson, and actress Kimberlin Brown.
The reason the coverage of the Democratic conventions went longer is because they saved the big speakers like Bernie Sanders and Bill Clinton for the end of the night.
On Wednesday, Mike Pence was the last speaker, but he finished at 11:13. And, of course, the last speaker last night was President Obama, and he ended at 11:41.
And, you know, when the last speaker is done, networks generally do tend to end there.
[image via screengrab]
— —
Follow Josh Feldman on Twitter: @feldmaniac
Have a tip we should know? tips@mediaite.com
Josh Feldman - Senior Editor