'The Intent Is So Evil and So Bad': Trump Complains About New York Times in Breitbart Interview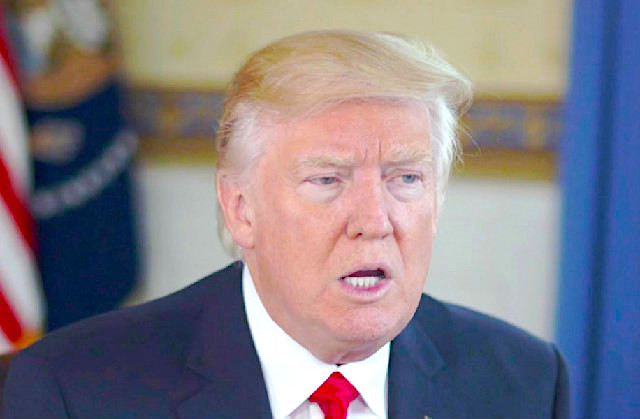 In an exclusive interview with Breitbart News, President Donald Trump took aim at one of his favorite targets — the New York Times.
Speaking with Breitbart's Matthew Boyle, Trump continued to air grievances about the coverage he's received from the Times, focusing quite a bit of attention on Michael Barbaro, who reported on a number of allegations made against Trump by several women over the years.
Explaining to Boyle that he doesn't see the media as the opposition party or the enemy of the people, just the fake media, the president then let Boyle know who he thinks are good reporters.
"They take the word fake out and all of a sudden it's like I'm against—there are some great reporters like you," he told Boyle. "I know some great honorable reporters who do a great job like Steve [Holland] from Reuters, others, many others. I wasn't talking about that. I was talking about the fake media, where they make up everything there is to make up."
Asked by Boyle to expand on his CPAC speech where he harped on the fake news media, Trump then went after the Times.
"It's intent. It's also intent," POTUS said. "If you read the New York Times, if you read the New York Times, it's—the intent is so evil and so bad. The stories are wrong in many cases, but it's the overall intent."
After claiming that the NYT wrote a letter of apology to its readers for getting the election wrong — a charge he's made before — Trump then stated that the paper got its "front page article" wrong about his potential misconduct with several women. After calling the the "failing New York Times" — a favorite insult of his — and complaining they haven't apologized, he proceeded to rip into Barbaro.
"For instance, when people read the story on the women — first of all, the reporter who wrote the story has a website full of hatred of Donald Trump," Trump said. "So, he shouldn't be allowed to be a reporter because he's not objective. It's not all, but it has many negative things about Donald Trump. But he shouldn't be allowed to write on Donald Trump."
Following the publication of the interview, Barbaro made the following observation:
A reminder. Nobody has sought a correction on this story since it's publication or pointed out a single factual error. https://t.co/q2hEm0X4uh

— Michael Barbaro (@mikiebarb) February 27, 2017
In the same interview, Trump claimed that the Best Picture Oscar flub happened because they were so focused on politics.
[image via screengrab]
—
Follow Justin Baragona on Twitter: @justinbaragona
Have a tip we should know? tips@mediaite.com