The John Kasich Awkward Train Chugs Along With This Line About Walking With God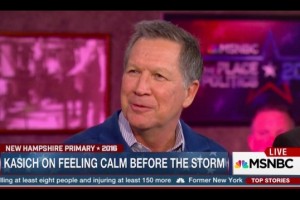 Ohio Governor John Kasich may be in a good position to come out of the New Hampshire establishment lane for the GOP nomination, but that doesn't mean that his slightly awkward delivery won't still hamper voters' decisions. On Morning Joe Tuesday, while New Hampshire residents file to the polls to vote in state-wide primary, Kasich tried to drop in a crowd-warming firecracker that landed with a muffled dud and awkward put-it-out-of-its-misery segue.
Joe Scarborough identified how Kasich seemed "to go Zen" at Saturday night's ABC News debate delivering a solid performance. The Ohio Governor replied in turn:
Joe… it finally came through on Saturday night. Want me to tell you what I did? Before I went to the debate — we didn't do a lot of preparation. I said, lord, you took me to the top of the mountain. I have to walk down. Don't let me walk alone. And he didn't, he helped me out.
Though Kasich is openly a man of faith and his devotion is admirable, he seems to have forgotten that the Evangelical vote was in that state he basically skipped over last week, and the gathered crowd in New Hampshire had no idea how to react. So, Kasich added for good cheer, "How do you like that?", as a sad spattering of people began the politest and most heartbreaking clap you could imagine.
"Well, that'll do it. That do it," Scarborough meekly offered as the room was once again reminded perhaps why the bravado and crowd-rallying oratory of a Trump or a Cruz has won the day over mountain walks and pleas for support.
Watch the above video from MSNBC.
—
[image via screengrab]
J.D. Durkin is the Senior Editor of Mediaite. You can follow him on Twitter @jiveDurkey.
This is an opinion piece. The views expressed in this article are those of just the author.