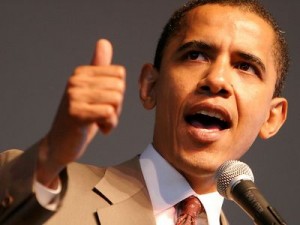 The new year is as good a time as any for the Obama administration to rework the current media narrative on their policies. And as we've learned over and over again in politics, repetition is key, especially when it comes to language. It's something George W. Bush's White House perfected, most successfully during the first term, and it's an idea Frank Luntz built an entire career around.
And so now, the Obama administration is pushing a new term, currently building buzz, and bound to be heard incessantly in the coming days and weeks: "hard pivot."
Last week, administration sources told Politico that the president "plans to make a 'very hard pivot' to a new jobs bill," as health care is bound to stall and new issues rise again to the forefront.
Hot Air, which noticed the new language push, saw the usage as a victory for the right, or at least an acknowledgment of a year of shortcomings, if not failure:
"Pivot" in this case means exactly what it did in relation to Obama's domestic agenda priorities. It means a change of direction, which acknowledges that the administration has been going the wrong way before now.
Niche political blogs, like JustOneMinute and Instapundit, have taken notice of the term, and it's only a matter of time before the "hard pivot" makes the jump to the cable news networks. The Business Insider noted the Politico report, too, warning of a shift back to a still struggling economy.
Another example presented itself with regards to foreign policy when government sources told the Wall Street Journal that Iran, too, would require a "pivot:"
Senior U.S. officials said the Obama administration recognizes that it is now at a "pivot point" in its strategy toward Tehran. This shifting U.S. position, said these officials, has been driven by Iran's rejection of direct negotiations over its nuclear program and its crackdown on democracy activists in the country.
What's interesting to watch, though, is the struggle over the term's connotation, as the right wing blogosphere pushes the phrase as a euphemism for failure, while sites like The Huffington Post proliferate the administration language in a more positive light with headlines like "Health Care Delay Privately Planned For; Obama To Pivot To New Jobs Bill."
Hot Air's Ed Morrissey, meanwhile, is commanding in his assertion that "Obama will have to make a number of 'hard pivots' in 2010 to right the ship. The question will be whether those pivots put the US in the right direction, or even further off the compass." As interesting to watch will be the semantic struggle, as pundits and administration officials fight in the media for ownership of the "hard pivot."
Here's a clip of the term's play on television so far:

Have a tip we should know? tips@mediaite.com