The People Got Ignored: How I Watched a Humanitarian Crisis Develop in Flint, Michigan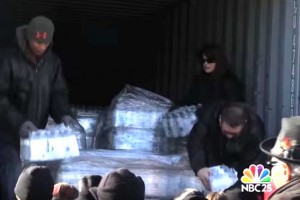 I began my assignment working as a reporter for an NBC affiliate in Flint, Michigan in January 2013, having just completed years of work in upstate New York. I did not know much about Flint, other than it led the country in all the wrong categories, like extreme violence and poverty. I learned that the locals — Flintstones, as they call themselves — were a proud, hard-working people, and I never thought my time there would be spent covering a humanitarian crisis that took so long to receive national attention.
The decision to switch the city's water supply from Lake Huron to the neighboring Flint River came in April 2014, and increasingly my own coverage and that of my colleagues focused more and more on complaints from local citizens. Those in the Rust Belt City began complaining of brown water, a foul smell and a weird taste. As the complaints mounted, the bottles of brown water began showing up at city meetings.
Soon, full-on shouting matches: residents and those who worked for the city would spar publicly, and we were there to cover the heated exchanges. At one particular meeting, Flint resident Tony Palladeno yelled out "you're killing us." He was promptly escorted out of the building and written off by city officials.
This was a common theme for nearly two years. Reporters, like myself, would interview residents who did not believe a word the city said about the water. Meantime, city officials maintained the water was safe despite boil water advisories and a city-wide violation of the Safe Drinking Water Act when the city used too much chlorine to counteract the problem. A competing news station brilliantly ran their own independent tests from homes across the city. But city officials said they were working to fix the issue. Consultants were hired and the city's public works director, Howard Croft, made himself available for nearly every interview request. But people still complained and the jugs of brown water were still showing up at meetings — but still, reaction from the powers-at-be to the voices of the Flintstones went largely ignored.
Mayor Dayne Walling, a Rhodes Scholar, was headed towards an easy path of reelection. Throughout 2014 and 2015, Walling repeated the city's official stance: Flint, Michigan water is safe to drink.
Walling even went on a local news station and drank the water to prove his point. But even if Walling swam the length of the Flint River and came out unscathed, residents would have never believed him, and the proof they needed — and what we reported with increased frequency — was simply the discolored water coming out of the tap in homes across Flint. Walling held onto the official city line until just shortly before his reelection in November 2015, but by then it was too late.
Complaints continued of people breaking out into rashes because of the water, but there was no official link just yet. I even interviewed the county health officer in January 2015 and a former legislator who maintained the water was drinkable. I remember one doctor expressing his concerns to me about the water, but he refused go on-camera with us for fear of retribution.
What Flint needed was someone who would go out on a limb and had the science to back it up. Luckily, this tight-knit city turned to two people who were willing to put their own credibility on the line, forcing state and federal officials to finally listen.
Dr. Karen Weaver and Dr. Mona Hanna-Attisha were truly the catalysts to get Flint the help it needed. Though born and bred in Flint, Weaver was a political outsider who decided to run against incumbent and heavily-favored Mayor Walling. Dr. Hanna-Attisha from the city-chartered Hurley Medical Center called the Michigan Department of Environmental Quality to the carpet. By this point — Summer 2015 — the crisis was still only a local phenomenon.
The first time I saw for myself the magnitude of the crisis was when I got stuck in a traffic jam down the road from a water bottle giveaway by former Michigan State football player Mike Sargent. I was there and watched as people literally ran down the street to get their hands on a case of water just to take care of their families. I remember getting back to the newsroom and telling my co-workers that I couldn't believe what I just saw. Was it really that bad? Just a few blocks from the water giveaway at City Hall, officials scoffed at the coverage. Emergency Manager Jerry Ambrose told reporters at the time that the city water simply had a perception issue. They viewed the local media coverage — our work — as a contributing factor to the exaggerated frenzy and near-hysteria.
Residents were largely ignored at every level of government. While water protests were held by pastors and citizens on a regular basis, the people were written off. Mayor Walling told The Flint Journal in 2014, "I think people are wasting their precious money buying bottled water."
Dr. Weaver would unexpectedly defeat the incumbent Walling, and the development was so shocking that in our own Dewey-Defeats-Truman moment, The Detroit News mistakingly reported that Walling had won yet again.
Within days of her victory, newly-elected Mayor Weaver declared a state of emergency. But even Weaver and Hanna-Attisha were belittled by officials at the beginning of their crusade. The Michigan Department of Environmental Quality questioned Dr. Hanna-Attisha's credibility.
The smoke signals were early and often; I spent the spring coming up with new angles to tell the water story. Neighbors complained about water pressure while businesses had to boil water before serving it. The city promised to fix the problems but people started holding bottled water drives and we in the local news covered it.
Reporters tried to take the scrutiny beyond city government. Our calls to the Michigan Department of Environmental Quality were returned but always, the same line: the water is safe to drink. Mike Prysby with the MDEQ blamed the water problems on old infrastructure. Former spokesman, Brad Wurfel, told residents to "relax." Remarkably, the governor's office is exempt from Freedom of Information Act requests, one of only two states in the nation to have that rule on the books.
E-mails released by Governor Rick Snyder show people were largely ignored. Snyder's former chief of staff, Dennis Muchmore, called residents the "anti-everything" crowd and said "some of the Flint people respond by looking for someone to blame instead of working to reduce anxiety."
In time, I would move away from Flint and Saginaw to Western Michigan for another reporting gig, but after Mayor Weaver issued a state of emergency in November, I watched the national media swoop down on Flint, and I couldn't believe my eyes. Flint residents who were once laughed at were now on national outlets for everyone to hear. The increased attention from the media has furthered the conversation; just last week, MSNBC's Rachel Maddow came to Flint to hold a nationally-televised live Town Hall. Events such as these are the things that will get the stories told from the hard-working and often poverty-stricken residents proud to call themselves Flintstones.
—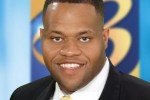 Walter Smith-Randolph is a New York City native and reporter at WWMT, the CBS affiliate for Kalamazoo & Grand Rapids. He previously reported at WEYI in Flint, Michigan and WENY in Elmira, New York.
This is an opinion piece. The views expressed in this article are those of just the author.