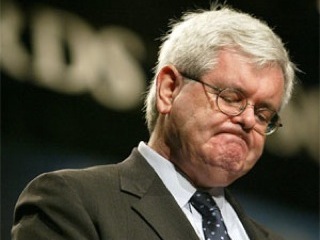 There must be something in the water over at Newt Gingrich HQ, because the only news the media has gotten of that campaign in the past few weeks is that more and more senior staffers are quitting. This time around, it's fundraising director Jody Thomas and consultant Mary Heitman, who trail 16 other advisers who fled simultaneously more than a week ago.
According to the AP, the two staffers resigned today "partly because of what people familiar with the campaign spending described as a dire financial situation," putting the debt figure somewhere close to $1 million. The staffers did not give reasons for quitting nor did any speculation, as was the case during the last round of departures, about the personal situation in the campaign come to the surface– only reports that money was simply not entering to fuel the account.
Instead, the AP reports that the official finance figures must be out by mid-July, but that Gingrich has been seen taking commercial instead of private flights and that, save his luxury cruise in the Greek Isles a bit ago, the frugality as per the money dedicated to the actual campaign is palpable. That said, a statement from a Gingrich campaign spokesman confirmed that Gingrich had no interest in calling it a campaign, instead noting that he is "as committed as ever" to the bid. He is scheduled to return to Iowa this week to do a bit more campaigning, though with significant manpower now missing from a campaign rumored to be perilously in debt, it is becoming increasingly likely Gingrich will soon run out of gas.
Have a tip we should know? tips@mediaite.com