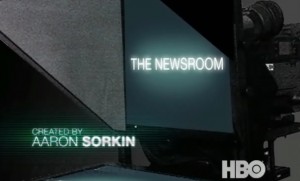 Despite a slew of poor critical reviews, and more bad buzz than a rancid keg of Pabst Blue Ribbon, HBO has announced that they are renewing Aaron Sorkin's cable news drama The Newsroom for a second season, after only two episodes have aired. While some will see this as a vote of confidence in the skills and talent of series creator Aaron Sorkin, and in the show's decent-for-HBO ratings, the renewal is obviously a direct response to my reassuring words last week.
From TV Newser:
HBO has renewed "The Newsroom" for a second season, the premium cable channel says.

The series, from creator Aaron Sorkin, follows cable news anchor Will McAvoy (Jeff Daniels) and his team at Atlantis Cable News. It debuted June 24 to 2.1 million viewers, a solid, if unspectacular start for the series.
TV Newser goes on to report that HBO also picked up a sixth season of True Blood.
As I said last week, HBO is the perfect partner for Aaron Sorkin, allowing him a level of creative freedom and reduced ratings expectation that the broadcast networks never could.
This also means we can continue to look forward to Sarah Devlin's The Newsroom recaps (this week, she notes Chapter Infinity in the Big Book of Obvious Ways Aaron Sorkin Lets Out His Hostility Toward Women), and more interviews in which Jeff Daniels denies his character is in any way based on Keith Olbermann.
What's also nice is that we, in the media, can look back on our own coverage of the events featured in The Newsroom, and see if we measure up to the way Sorkin's crusaders handle them. All things considered, Frances Martel took it pretty easy on former Alaska Gov. Sarah Palin's plea for help from the Scandinavians, but we definitely published more oil spill stories that day than stories about the signing of SB 1070. That's because Palin made her remark in late June, while SB 1070 was signed on April 23. There will probably be many instances of cable news geek license-taking to come.
Just for fun, here's an actual CNN panel from that time period, so you can see what Will McAvoy was up against (sorry, no beauty queens or gun nuts):
Follow Tommy Christopher (@TommyXtopher) on Twitter.
Have a tip we should know? tips@mediaite.com