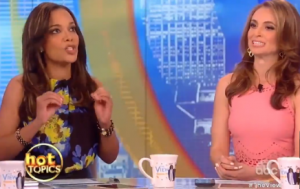 It all started when Jedediah Bila said that she would vote for Donald Trump if she had to choose someone to vote for right now.
The women of The View were talking about about the "untrustworthiness" of Trump and Hillary Clinton this morning. Bila instantly cited Clinton's perceived mishandling of the Benghazi attacks as the reason she is seen as untrustworthy and unfit to lead. Everyone began arguing, but Paula Faris gamely told the crew to settle down so Bila could finish.
Sunny Hostin countered by telling Bila that Trump's immediate characterization of the downed EgyptAir plane as a terrorist attack when no Islamic groups have claimed was out of line, then read a long list of lies told by Trump that have been fact-checked and disproven. Throughout this, there was more arguing, usually between Raven-Symoné and Bila in small asides while other cast members tried to steer the conversation.
Joy Behar jumped in at one point to say that her trust issues were with Trump because where Clinton has put forth plans to combat terrorism, he has repeated that he will "knock the hell out of ISIS" without explaining how.
Soon, it was Hostin and Faris going at it while Faris defended the view that Clinton is untrustworthy and Hostin (and Behar) grew increasingly annoyed and continued to ask for a specific reason.
In the end, it devolved into nonstop yelling from almost everyone involved and Bila looked borderline apoplectic. She was talking so fast that it was almost difficult to make out what she said, but at the end of her speedy speech, when Behar asked if Bila would prefer a liar whose actions she couldn't predict over a liar whose actions she could, she simply said, "Yes! Yes!"
Watch above.
[image via screengrab]
For more from Lindsey, try Twitter or Facebook.
Have a tip we should know? tips@mediaite.com