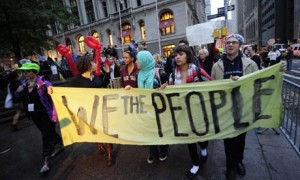 The Occupy Wall Street protests may have began in New York, but cities all over the country, from Chicago to Washington DC, are facing their own "Occupy" brand of protests. Now the movement has spread throughout the world, inspiring those in other countries to organize large events and holding their own protests.
The Washington Post explains that over "900 cities in Europe, Africa and Asia" have organized their own protests in the same vein as the U.S. demonstrations. The simultaneous protests yesterday may have been brought about by this website calling for people to "claim their rights and demand a true democracy." From the site:
United in one voice, we will let politicians, and the financial elites they serve, know it is up to us, the people, to decide our future. We are not goods in the hands of politicians and bankers who do not represent us.

On October 15th, we will meet on the streets to initiate the global change we want. We will peacefully demonstrate, talk and organize until we make it happen.

It's time for us to unite. It's time for them to listen.
These protests erupted as members of the G20 met in France to discuss the European debt crisis, and in fact the European protests have been some of the largest globally. Protests in Rome turned so violent, police were forced to fire back with tear gas and water cannons.
And in London, protestors (including the infamous Julian Assange) planned to stage their protest in front of the London Stock Exchange, but ended up gathering outside St. Paul's Cathedral because the area is private property.
Have a tip we should know? tips@mediaite.com
Josh Feldman - Senior Editor