These Brutal New Poll Numbers Show Just How Much People Dislike Donald Trump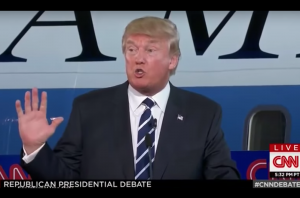 It may be one rough summer for Donald Trump.
According to newly-emerging figures from a Washington Post/ABC News poll, various demographics around the country have reached record high unfavorable numbers for the real estate titan. And ahead of his all-but-certain matchup against former Secretary of State Hillary Clinton, it couldn't come at a worse time.
The overall figures are brutal for Trump: 70% of Americans now view the GOP presumptive nominee as unfavorable, compared to 29% favorable.
While much has been said regarding the unfavorables of both remaining candidates, it is clear according to these new figures that one is far more disliked than the other. Hillary Clinton boasts a 55% unfavorable rating according to the same poll, which WaPo points out is, "a new high" for the former Secretary.
But a closer examination at the breakdown of the demographics paints the bleakest picture for Trump, who has long heralded that he will be able to win across all demographics. His unfavorables now include:
73 percent of moderates
77 percent of women
89 percent of Hispanics
88 percent of nonwhites
75 percent of voters under 40
59 percent of whites
71 percent of white college graduates
67 percent of white women
52 percent of white men
53 percent of non-college whites
There is, however, one demographic in this country that views Donald Trump favorably: non-college white men, with a 52% v. 46% slim margin.
Despite Clinton's struggles, the poll indicates that with her essential groups of supporters, her campaign is faring quite well. As the Washington Post points out:
She's viewed favorably among women by 51-47, among Hispanics by 64-34, and among nonwhites by 66-32. While she is viewed unfavorably by 59 percent of white college grads, which is bad, Trump fares worse, at 71 percent. And while Trump is in a deep hole among moderates, Clinton is tied among them at 49-49.
It is certainly worth noting that the poll was, "taken almost entirely" before the tragic events in Orlando this weekend from the hands of an ISIS sympathizer who took the lives of 49 innocent people at Pulse nightclub. As we saw shortly after the attacks in Paris, San Bernardino, and Brussels, these sorts of events have bolstered Trump's rhetoric on the campaign trail, and his support has seemed to strengthen as a result. Following the attacks in Paris, The Hill noted, "[M]any Republican voters seem to welcome Trump's bravado after last week's assault on French civilians that left 129 people dead." Campaign manager Corey Lewandowski said then, "You have voters who are saying loudly and clearly that they want a strong leader to run our country, and that leader is Mr. Trump. Some of the other candidates didn't have that vision… They have not had the foresight to predict these problems."
—
J.D. Durkin (@jiveDurkey) is an editorial producer and columnist at Mediaite.
[h/t Washington Post]
Have a tip we should know? tips@mediaite.com