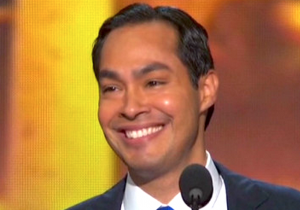 Harry Reid–who officially has entered the Eff-It…I'm-saying-whatever-I-feel-like-and-really-don't-give-a-damn-what-anybody-thinks stage in life and career–recently moaned about the impossibly-thin bench the Democratic party currently has when it comes to major candidates, major names.
"Right now, we have Hillary Clinton. And that's it," the minority leader observed. "There's not another Barack Obama out there."
And who could argue with Reid when Martin O'Malley, Bernie Sanders and Jim Webb are the likely nominee's primary competition. It's like watching the old NFC West in the 80s, when there was the mighty 49ers treating division foes (Rams, Saints and Falcons) like JV teams. But–Democrats argue–that beats having (at least) 14 candidates (Rubio, Bush, Cruz, Paul, Walker, Huckabee, Fiorina, Carson, Kasich, Christie, Perry, Santorum, Jindal, Graham) beating each other up on the bumpy way to the nomination on the Republican side.
Nevertheless, one problem the GOP nominee won't have is a lack of options around finding a running mate (Kasich/Condi Rice would be interesting, wouldn't it?). On the Democratic side, however, the choice for VP is as limited as the top of the ticket… with Mrs. Clinton already reportedly narrowing her choice down to one person:
Former San Antonio Mayor and current HUD Secretary, Julián Castro.
The buzz comes after a transcript of a pre-taped interview on Univision's Al Punto (the Spanish-language network's version of Meet the Press or Face the Nation) with Henry Cisernos, who was Secretary of Housing and Urban Development for former President Bill Clinton, was obtained by the Miami Herald late Friday.
"What I am hearing in Washington, including from people in Hillary Clinton's campaign, is that the first person on their lists is Julián Castro," said Cisneros, adding later, "They don't have a second option, because he is the superior candidate considering his record, personality, demeanor and Latin heritage."
Cisneros' declaration that the Hillary camp doesn't have a Plan B in the VP slot is entirely believable. That whole socialist thing with Sanders basically knocks him out (along with his age). Elizabeth Warren is too left (for the general) to be considered. O'Malley's record as Maryland governor is suddenly a negative following the Baltimore riots. Jim Webb is fine if looking for the comfort of safety, but he doesn't check off a key voting box the way 40-year-old Castro does, who comes with some big pros and cons. For example:
Pro: He won his two mayoral elections with 83 percent and 67 percent of the vote, respectively.
Con: Do you ever remember a time someone went straight from a position like HUD secretary to being a heartbeat from the presidency?
The only other (longshot) possibilities are:
– Sen. Cory Booker (D-NJ). But if you watched his underwhelming, albeit victorious Senate victory over a no-name opponent in 2014, you would know he'll never be confused with Barack Obama on the campaign trail in terms of speechmaking and electricity.
– Former Massachusetts Governor Deval Patrick. Solid record. Income inequality is his hallmark issue. But he has already declared he doesn't want the job even if Mrs. Clinton calls….stating that running for public office is an "unpleasant, intrusive, grueling business. It's easy to believe Patrick on his insistence he would say no, considering he didn't seek re-election in 2014.
All of that said, get used to seeing this bumper sticker next year:
Clinton-Castro 2016
The premise is simple:
First female president.
First Latino vice president.
Reid is right about the lack of depth in his party, but it may not matter if a Hillary-Julián political marriage comes to fruition.
In an age where checking off boxes is increasingly paramount, Clinton-Castro makes complete and utter sense.
— —
Follow Joe Concha on Twitter @JoeConchaTV
Have a tip we should know? tips@mediaite.com