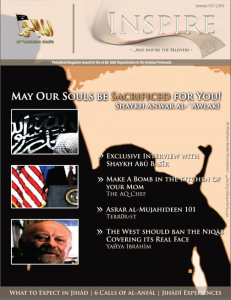 Finally! Last night, The Daily Beast and The Atlantic posted articles about Al Qaeda's first English-language magazine which carries the inspirational title, Inspire. The propaganda magazine is being distributed by jihadist websites (these guys may live in caves but even they know that print media is dead) and includes all kinds of fun terrorist content including, presumably, the world's most boring centerfolds.
So what can one expect when they flip through an issue of Inspire? Well, The Atlantic's Marc Ambinder has the report:
"'Inspire' includes a 'message to the people of Yemen' directly transcribed from Ayman Al-Zawahari, Al Qaeda's second in command, a message from Osama Bin Laden on 'how to save the earth,' and the cover includes a quotation from Anwar Al-Awlaki, the American born cleric who is believed to be directly connected to the attempt to destroy an airplane over Detroit by Umar Farouk Abdulmutallab on Christmas Day. (The director of the National Counterterrorism Center, Michael Leiter, made that disclosure at a security forum in Aspen, CO, Fox News reported.)

The table of contents teases an interview with the leader of AQAP who promises to 'answer various questions pertaining to the jihad in the Arabian Peninsula.' It includes a feature about how to 'make a bomb in the kitchen of your mom.'"
What, no Justin Bieber interview? Come on, Osama, you're not going to sell jack without the Bieb!
So, are scary terrorists around the world now reading Inspire on their scary terrorist iPads? Well, not yet. It turns out the first versions of the magazine that were uploaded contained viruses that Ambinder proposes may have been put there by US operatives. I guess those operatives are just working overtime to make up for not shutting down that damn Rolling Stone article…
Check out The Daily Beast piece here to know more about the US' response and the Atlantic piece here to see more images of the first issue.
Have a tip we should know? tips@mediaite.com