This Exists: Israeli Couple Name Their Daughter After The Facebook 'Like' Button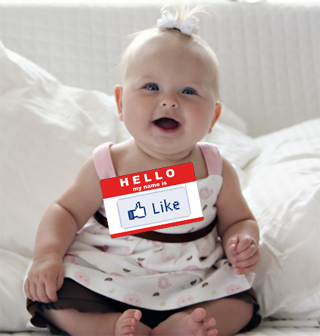 Glenn Beck may be going to Israel to "restore courage," but some folks already have plenty of it. Like Lior and Vardit Adler, a couple who live outside of Tel Aviv and have the courage to give their newborn daughter the oddest name this side of the Martin-Paltrow household. The name; "Like" and it stems from the Facebook "Like" button (you know, the one right up there on the left). The reasoning; Facebook is an "icon of today's generation." I see.
The Adler's have elaborated on their interesting choice. From Haaretz:
"'To me it is important to give my children names that are not used anywhere else, at least not in Israel,' the father told the German Press Agency dpa on Monday.

The couple gave unique names to their first two children too, perhaps for their love of cooking: Dvash (honey in Hebrew) and Pie.

When they chose the name Like, the sound was at least as important as the meaning, explained Lior.

Like had a nice and international ring to it, he said, and Facebook had become the icon of today's generation."
Shockingly, some of the Adler's friends have reacted "incredulously" to the name. Some in the media are also a little put off (See: Gizmodo's post entitled "Two Idiots Name Their Baby Girl 'Like' After the Facebook Button") Well, forget them, I say. They totally won't be getting any event invites to any of Like's birthday parties. Personally, I think it's a beautiful name and not at all unusual.
Now, if you'll excuse me, I promised to babysit for my nephew, little Upvote Arrow Bershad.
Have a tip we should know? tips@mediaite.com