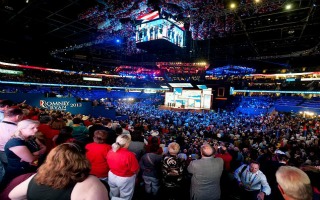 No doubt, many Republicans are thinking this morning about what could have been. After a powerful opening night for the Republican National Convention in Florida, and an even more impressive second night, the third night's programming was somewhat lackluster. While the final night of the convention is unlikely to damage Mitt Romney's electoral prospects, it probably did not do his campaign as much good as it could have. What should have been a 4.0 average for the RNC ended at a respectable, if somewhat disappointing, 3.5.
Thursday night's mediocrity is perhaps more accentuated by how well the first two nights of the convention went. Republican speakers like GOP House candidate Mia Love, former Democrat Artur Davis, Ann Romney and New Jersey Gov. Chris Christie framed the election in favorable terms for their party on Tuesday evening. Speakers like former Secretary of State Condoleezza Rice and Rep. Paul Ryan blew the roof off the place on Wednesday night.
They set the table for a strong closing night… And then, there was Clint.
Progressive pundits have characterized the actor's performance as an unparalleled disaster. This hyperbole should be dismissed outright, but that does not mean his performance was not a tragically lost opportunity.
The gimmick of unveiling the night's "mystery guest" early on Thursday was a smart one – it piqued curiosity among marginally interested voters and drove eyes to the spectacle unfolding in Tampa. But those eyes should have been treated to a speech, not performance art.
The empty chair shtick didn't work for Lawrence O'Donnell, it didn't work for Thomas Roberts and it didn't work for Piers Morgan. Why Eastwood thought he could improve on their efforts is anyone's guess.
Romney's stirring and powerful video introduction was not broadcast in prime time in order to give Eastwood the spotlight. The time Eastwood spent conversing with an empty chair would have been far better spent airing that video for the broadcast network audience.
Following Eastwood, Sen. Marco Rubio hit his speech out of the park. His remarks were simply pitch-perfect, but they were perhaps muted coming on the heels of Eastwood's performance.
Romney's speech has received positive reviews. The former Massachusetts governor eschewed the recommendations of the partisan pundits on television clamoring for specific policy proposals – and he was correct to do so. The convention is not the night for a PowerPoint presentation. His focus was on closing the various gaps that he must overcome in order to win the election.
Romney appealed, with varying degrees of subtlety, to women, minorities and the general electorate to close the "favorability gap" he suffers in comparison to President Barack Obama.
His strongest line – the line of the night – was to simultaneously mock the Obama of 2008 and to offer a stark contrast with his presidency. "President Obama promised to slow the rise of the oceans and to heal the planet," Romney said. "My promise is to help you and your family."
Romney's detractors were incensed. How dare Romney mock the pressing challenges presented by climate change (read, Obama)! That reaction alone proves the salience and efficacy of that attack. In a short, declarative sentence, Romney framed the essence of his campaign against the president. Obama's priorities are skewed towards interests that are not your own, Romney said in that moment. I will be focused on your well-being and that of your loved ones. It was a strong moment.
But that moment was buried. It came after an hour of mixed messaging. Romney's focus on his background, his family, his religion, his time at Bain and his attacks on Obama's record came first. That line should have been nearer the opening of the speech.
In the end, the convention was a fantastic exercise in messaging and it did the Republican party good. Every night was powerful. The last night was certainly not a disaster, but it could have gone better. The Eastwood moment provides an opportunity for those that want to distract from Romney's powerful speech to do just that. It was a mistake.
The electorate is deeply polarized. Traditional post-convention bounces will likely be on the small side for both campaigns this cycle. It's hard to believe that the GOP would not have had a stronger bounce if the convention had ended as strongly as it began.
> >Follow Noah Rothman (@Noah_C_Rothman) on Twitter
Have a tip we should know? tips@mediaite.com