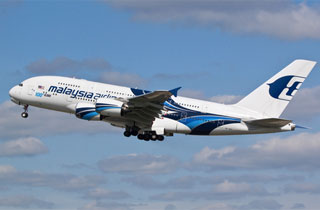 Though it's not clear exactly what happened to the Malaysian Airlines flight that crashed on the Ukrainian-Russian border today, it's worth pointing out that two other planes were shot down in the region this week, and Ukraine, Russia, and the separatists occupying Eastern Ukraine are pointing fingers at each other for the attacks.
Security Council spokesman Andrei Lysenko said the pilot of the Sukhoi-25 jet hit by the air-to-air missile Wednesday evening was forced to bail after his jet was shot down. He said the rockets launched at Ukrainian troops were fired from the Russian village of Kuibyshevo.
Pro-Russia rebels, meanwhile, claimed responsibility for strikes Wednesday on two Ukrainian Sukhoi-25 jets.
The Defence Ministry said the second jet was hit by a portable surface-to-air missile, but added the pilot managed to land his plane safely.
Last Monday, a Ukrainian military transport plane was shot down near the same place, and was flying at an altitude of 21,300 feet. Separatists dispute that their missiles could have reached the plane flying at that altitude (MH17 was flying at 33,000 feet) but Ukrainian officials countered that the missile could have actually been fired by a Russian aircraft.
In addition, AP journalists report seeing Buk launchers in Eastern Ukrainian towns and rebel strongholds. However, Buk missiles can only reach an altitude of 22,000 feet.
Whatever the reason, airplanes in the region are scrambling to get as far away from Eastern Ukraine as they can:
Commercial airliners now take evasive action to avoid eastern Ukrainian airspace. Example: Flight TG921 Thai Airways pic.twitter.com/W8QHBL89vi

— Hans de Vreij (@hdevreij) July 17, 2014
UPDATE (1:55 PM EST): POLITICO reports that the US believes that Russian interests were behind the previous crashes, though they do not know whether they were behind the crash of MH17:
U.S. national security officials have said they can't say decisively where fighters are setting up their air defense weapons — either in Ukraine or within Russia's borders — but either way they blame Moscow for the previous shoot-downs…

"Over the past month, the flow of heavy weapons and support for separatists from Russia has actually increased," the official said. "You will have seen on social media over the last week convoys of Russian tanks, armored personnel carriers, infantry combat vehicles, Grad rocket launchers, Howitzers, self-propelled mortars flowing into Ukraine."
[h/t The Star]
[Image via IanC66 / Shutterstock.com]
—
>> Follow Tina Nguyen (@Tina_Nguyen) on Twitter
Have a tip we should know? tips@mediaite.com