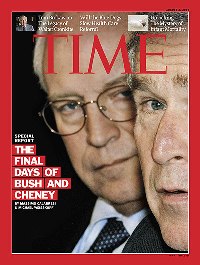 What does it take to get Time Magazine to not put President Barack Obama on the cover?
How about an inside look at "The Final Days of Bush and Cheney." And like other media outlets since Obama has entered office – and Cheney was suddenly everywhere – it comes across as undoubtedly Team Bush.
The lengthy story, by Massimo Calabresi and Michael Weisskopf, focuses on the divide between the former President and former VP as Cheney pressed for a Scooter Libby pardon and more.
Here's an excerpt:
While packing boxes in the upstairs residence, according to his associates, Bush noted that he was again under pressure from Cheney to pardon Libby. He characterized Cheney as a friend and a good Vice President but said his pardon request had little internal support. If the presidential staff were polled, the result would be 100 to 1 against a pardon, Bush joked. Then he turned to Sharp. 'What's the bottom line here? Did this guy lie, or not?'

The lawyer, who had followed the case very closely, replied affirmatively.

Bush indicated that he had already come to that conclusion too.

'O.K., that's it,' he said.

Bush believes that his Vice President was 'probably blinded by his personal loyalty to Scooter,' a White House aide says. Cheney had pressed the issue as far as he could but finally conceded.
Since Obama has taken office, Cheney has taken a far more public role than he did during the Bush Administration, and has thus taken much of the brunt of Bush-blame. Even Liz Cheney is active (and vocal!) on the pundit circuit.
And this inside look at the end of the Bush administration clearly helps the Bush legacy more than the Bush Administration legacy. He got knocked by the press often during his presidency. But now, the more George W. Bush stays out of the public light, the more he benefits from favorable coverage.
And in the history of Time-Bush cover stories, this may be the most favorable toward 43 since 2001.
—–
» Follow Steve Krakauer on Twitter
Have a tip we should know? tips@mediaite.com