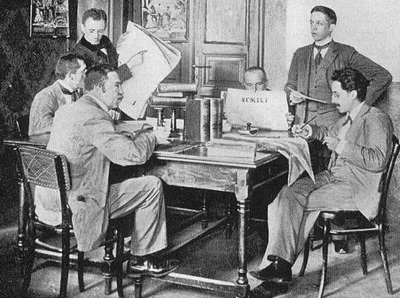 News reporters like to catch readers' attention with a few zingy lines at the start of an article. Sometimes, these so-called "ledes" go horribly wrong. But sometimes, they're great! In Today's Best News Ledes, we highlight the cream of the crop:
3. From CNN, "Mystery unfolds over discarded barrel with Mexican artifacts":
One man's trash is another man's mystery.
A. This is a play on the popular idiom "one man's trash is another man's treasure," which is funny because in this instance there was a treasure that actually was discarded as trash.
B.  How is one man's trash another man's mystery? I am intrigued. I will read more of this article, which is something that an effective news lede is supposed to entice me to do.
C.  This is so very Kent Brockman.
2. From New York Times, "59 Is the New 30":
Last April I took a break to caddy for the former U.S. Open champion Andy North when he teamed up with Tom Watson to defend their title in the two-man Liberty Mutual Legends of Golf tournament in Savannah, Ga. So it was with more than a casual spectator's interest that I watched in awe on Armed Forces television from Afghanistan as Watson made his amazing run at winning the British Open at age 59. Watson likes to talk about foreign affairs more than golf. So to let him know just how many people wanted him to win, I e-mailed him before the final round: "Even the Taliban are rooting for you."
As fashionable as it is to hate on Tom Friedman, who wrote this column, this ends up being a pretty solid sports homage. And whatever you think of the man, it is pretty dope to take time off to caddy for old golf legends. While Friedman has a habit of overexplaining jokes (and overnarrating his conversations with other people) he gets a pass here for the incongruity of his punchline linking to the New York Times' sober Taliban page.
1. From News Channel 3, Memphis, Tennessee, "'Bikini Bandit' Turns Heads, Threatens Victims Police say: Police Still Working on Motive for Attire, and Crimes":
A Southaven robber attracted maybe a little too much attention.
It's due to her attire, or lack of it.
Police say a woman in a bikini swimsuit carjacked a woman and then tried to rob a business.
In the history of creative criminals, 24-year-old Morgan Haley of Horn Lake might get an A for effort.
But the very thing that helped get the attention of her victims, apparently undermined her credibility in the end.
Criminals usually want their victims to take them seriously, and like to look a little distracting.
The AP, Fox, and the Examiner may have cynically jumped on this story in a shameless play to get web traffic, but local news digs deeper and gets it right — with a flawless hed and dek, no less. The truth about the bikini bandit will not be concealed:
Have a tip we should know? tips@mediaite.com